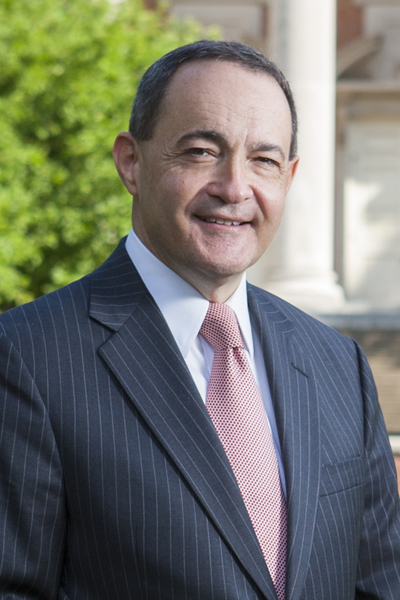 President, Samford University, Professor
Howard College of Arts and Sciences
Political Science
Office: 201 Samford Hall
Dr. Andrew Westmoreland became the 18th president of Samford University on June 1, 2006. Samford University is Alabama's largest privately-supported institution of higher learning. It was founded in 1841 by Alabama Baptists and retains a close church relationship.
Dr. Westmoreland is a graduate of Ouachita, having received a bachelor's degree in political science in 1979. He earned a master's degree in political science from the University of Arkansas at Fayetteville, and a doctorate in higher education administration from the University of Arkansas at Little Rock. A native of the Batesville, Arkansas area, he graduated from Batesville High School in 1975. He is married to Dr. Jeanna Westmoreland, who served as professor of education and dean of Ouachita's School of Education. The Westmorelands have one daughter, Riley Elizabeth.
Prior to his selection as president by the Samford Board of Trustees, he served eight years as president of Ouachita Baptist University, and on the administrative staff for more than 19 years in various capacities, including Vice President for Development and Executive Vice President. In 2005, his book, Leading by Design, was published by Baxter Press.
In addition to his duties as president, Dr. Westmoreland teaches a course in political science on a regular basis. He also is a member of many boards for charities and corporations. His current and past service includes: vice-chair of the board of Arkansas' Independent Colleges and Universities; chair of the board of directors of the International Association of Baptist Colleges and Universities; trustee for the Baptist Health Corporation Board (Arkansas); director for the Foundation for Independent Higher Education; chair of the Consortium for Global Education; member of the Birmingham Business Alliance Board of Directors; member of the Advisory Board of the Greater Birmingham Salvation Army; trustee for the Baptist Health System (Birmingham); and chairman of the March of Dimes 2009, 2010 Birmingham Walk for Babies. He is a member of the Board of Trustees of the Commission on Colleges of the Southern Association of Colleges and Schools. He has also served as a consultant-evaluator for the Higher Learning Commission.