Published on August 23, 2016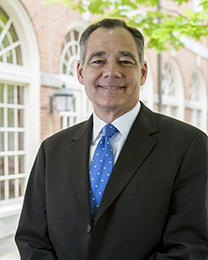 The beginning of the academic year is a special and exhilarating time at any school.  I think we all recall the excitement and sense of possibility that we experienced at the start of a new school year, especially when we began college or law school.  This new school year is particularly exciting at Cumberland because it brings an outstanding new class of law students, several terrific new faculty and staff members, and promising new program enhancements.
Cumberland this week welcomed the Class of 2019 to campus.  It is a full class of 149 outstanding students from 15 states.  Fifty-four percent of the class is from Alabama, and 50.5% are women.  The class is the most diverse group in Cumberland's history, with 20% identifying as minority, and the group has a somewhat higher median LSAT score and undergraduate GPA than recent classes.  We also welcomed three exchange students from the University of East Anglia Law School in the United Kingdom and one from NALSAR University in India. 
Cumberland will have several new faculty members in the classroom this year as well.  Tracey Roberts joins our faculty as a Visiting Professor of Law.  Prof. Roberts, who will teach tax and property courses this year, holds a B.A. from Harvard University, a J.D. from Vanderbilt University Law School, and an LLM from New York University Law School.  She practiced law for approximately fourteen years in Atlanta and Denver and has taught at the University of Louisville, the University of South Carolina, and Hastings College of Law.
Andrea Shaw has been selected as the Interim Director of Cumberland's Lawyering and Legal Reasoning (LLR) program for the 2016-2017 academic year.  Professor Shaw has a degree in geology from Florida State University and had extensive experience as an environmental consultant before going to law school.  After graduating with honors from Cumberland, she formed Shaw Legal Research, LLC, a company that provided legal research and brief-writing services to law firms.  She joined the Cumberland faculty in 2011 and has taught Lawyering and Legal Reasoning I & II, MCL Legal Research and Writing, and Environmental Issues in Real Estate. She will use her experience to integrate our new LLR instructors and coordinate updates to the existing program.
Cumberland also added two new instructors to our LLR program.  LLR is our six-credit, year-long required first-year course that provides intensive writing instruction and practice while leading students through the litigation process.  The new instructors are Robin Andrews and Brian Noble.  Prior to going to law school, Ms. Andrews earned a master's degree in education and taught high school English.  She then attended Cumberland, graduated first in her class, engaged in private practice for several years, and then served as general counsel to the Calhoun County Board of Education.  Mr. Noble earned the rank of captain in the U.S. Army, graduated second in his class from Cumberland, clerked for a federal district judge, and practiced law in both a large and small firm setting.  The addition of these highly qualified instructors will enable us to have smaller LLR classes and provide much more individual feedback and instruction in the all-important area of legal writing.
We also created the position of Director of Academic Support, and selected Lynn Hogewood to fill that role.  Ms. Hogewood has taught in Cumberland's LLR program for ten years.  In her new role, Ms. Hogewood will coordinate programming to assist students in the transition to law school and to develop skills needed to excel.  She will also create programming for and counsel students who struggle with some aspect of law school academics.  She will also continue to teach a section of LLR. 
Finally, we welcomed to campus Paula Kierce, Cumberland's new development officer.  Paula brings extensive development experience and expertise, having worked in development for over ten years at Auburn University and Auburn University-Montgomery.  She is a graduate of Faulkner University and has an M.B.A. from Auburn.  I am excited about Paula's experience and energy, and I look forward to introducing her to you at alumni functions and informal meetings throughout the year.