First Place, 15th Annual National Trial Advocacy Competition 2014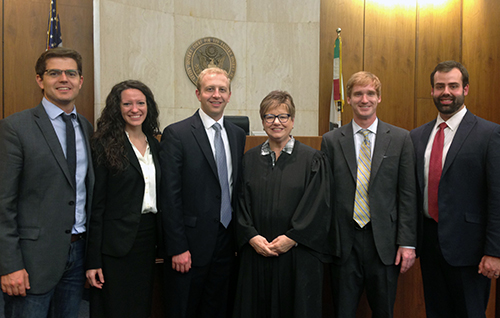 From Oct. 8-11, 2014, members of Cumberland School of Law's national trial team competed in and won the 15th Annual National Trial Advocacy Competition hosted by Michigan State University College of Law. The competition was held at the Theodore Levin U.S. Courthouse, Detroit, Michigan.
The team members of Matthew Garmon (third-year), Collin Hatcher (second-year), Amanda Herren (second-year) and Matthew Woodham (third-year) performance was stellar as they went 5 - 0 against their competition in route to winning the championship. The competition they faced included John Marshall Law School Chicago, University of Akron School of Law, Texas Southern University's Thurgood Marshall School of Law, Southern Methodist University Dedman School of Law and Duquesne University School of Law.
Pictured: Coach Ross Massey (Class of 2011), Amanda Herren, Matt Garmon, Hon. Marianne Battani, Matt Woodham and Collin Hatcher
Not pictured: Coach Sara Williams (Class of 2006)