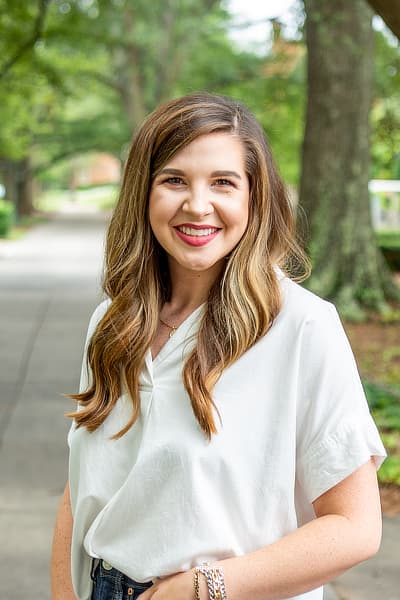 Associate Campus Minister
Office of Spiritual Life
206 Burns Hall
Mallory Scarinzi came to Samford University as the Associate Campus Minister in March of 2020. She has the joy and privilege to serve Samford students through coordinating Samford Small groups, connecting with students through conversation and prayer, and teaching God's word in large and small group settings.
Mallory grew up in Auburn, AL as the daughter of a pastor and sensed the Spirit in her life at a very early age. She attended Auburn University (War Eagle!!) and felt God calling her to full time ministry and answered that call after graduation by serving her church through worship and student ministry. She continued to follow that call by attending Southwestern Baptist Theological Seminary. She has served in two local churches: Prestonwood Baptist Church in Plano, TX while in seminary, then at Forest Hills Baptist Church in Nashville, TN before moving to Birmingham. 
Mallory has been happily married to her husband Nicolas since March 2019. She is a die-hard Auburn Tiger fan, an amateur baker, lover of books, coffee addict, and a big indoors girl. Her and Nicolas love adventure and travel, especially traveling to Nic's home country Brazil, but also love a day at home watching TV and snuggling up with their sheepadoodle Milo. 
Mallory's prayer for her life comes from Psalm 119:133, "Direct my footsteps according to your word; let no sin rule over me." She finds her purpose in loving God and seeing students come to know Him and follow Him in all their ways.