The Master of Science in Education (M.S.E.) in K-12 Collaborative Special Education with Class A Certification is designed for those who feel called to improve the lives and outcomes of students with disabilities and at-risk for disabilities.
The 30-hour program is delivered through a blended format, ideal for educators working full-time. Online courses offer the same quality education as students will receive in the classroom, including strong relationships with classmates and faculty, small class sizes and a blend of theoretical concepts with practical, hands-on experiences.
Courses are delivered by award-winning faculty who are invested in preparing educators who desire to effectively teach, plan and impact the learning of students with disabilities and aspire to engage in meaningful research that has the potential to improve the lives of the children in their classroom, their families and the field of special education.
I can honestly say that I would not be the educator that I am today without the love and support from my family and childhood teachers as well as the professors and training of Samford University's Orlean Beeson School of Education. The content, internships, professional development, and mentorship that they submerge you in is unparalleled. Samford continues to produce professional, reflective educators, and I am proud to say that I am a Samford Bulldog!Mandy Jayne Antwine '14
Objectives and Curriculum
The M.S.E. in K-12 Collaborative Special Education with Class A Certification is designed for those who have completed a bachelor's degree and earned Class B Certification.
The program was developed to help licensed teachers who feel called to the area of collaborative special education and desire to increase their knowledge base in order to best meet the needs of students with disabilities.
Graduates of the K-12 collaborative special education program will master the following concepts:
Instructional adaptation for student diversity
Assessment procedures and processes in special education
Effective instructional strategies for working with low and high incidence disabilities
Research-based methods of instruction in the K-12 special education classroom
Functional behavioral approach
Processes and procedures for referral, assessment, placement and reevaluation in special education
The curriculum requirement for the program is 30 credit hours. Students must have a 3.25 or higher cumulative GPA at Orlean Beeson School of Education to graduate. Please view our full list of completion requirements.
For more information about the graduate courses and electives offered at Orlean Beeson School of Education, please visit the Orlean Beeson School of Education section of the Samford University Catalog.
Admission
Application Deadlines
Fall (August start date): July 15
Admission Requirements
To be considered for admission to the collaborative special education master's program you must:
Possess a bachelor's degree from a regionally accredited institution
Hold a Class B teaching certificate
For an application to be considered complete, we must receive all of the following*:
Online application for admission. Please be sure to list your personal e-mail address on the application.
$35 Application Fee. This non-refundable fee is payable by credit card and is waived for Samford alumni, and current Samford students, faculty or staff.
Official Transcript(s) from all higher education institutions attended. Transcripts are considered official only when they bear the issuing institution's seal and arrive with the seal intact. Transcripts can be sent electronically to kbgilrea@samford.edu or by mail.
Official GRE or MAT Scores. Applicants should request for GRE or MAT scores to be sent to Samford University from the testing agency. Waived if applicant has already completed a graduate degree from an accredited university.
Writing Sample
Dispositions form filled out by current supervisor.
To check the status of application items, you may login to your application account and view the list of application items received.
Is This Program for Me?
If you have a desire to give individualized educational support to students with disabilities, this program is for you.
This program will prepare you to serve as a resource and advocate for students with disabilities and their families. You will gain skills needed to help improve the quality of life for your students, take leadership positions within the field and conduct groundbreaking research.
At Samford's Orlean Beeson School of Education we believe that small class sizes, experienced faculty and clinical experiences create a foundation that prepares you to serve your students and be a teacher leader.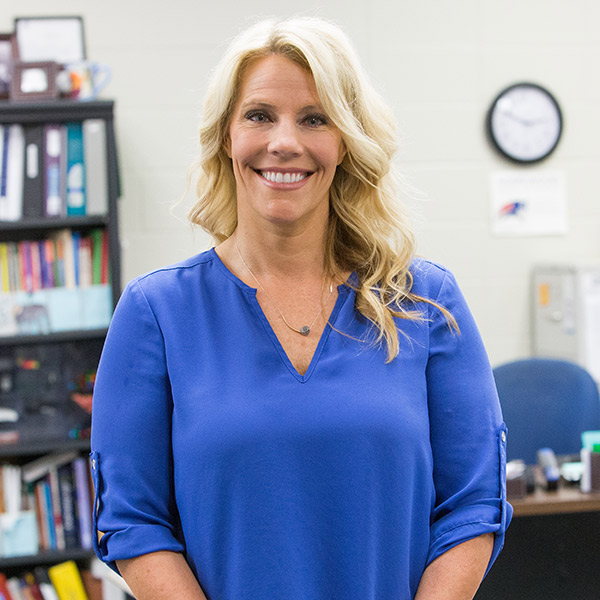 Applying for Samford's K-12 Collaborative Special Education graduate program was one of the best professional decisions I made since I started teaching. Samford provided such a close-knit and supportive atmosphere throughout my entire experience. The professors knew their craft and were passionate about making a difference in students' lives. In every class, there were high expectations, quality teaching and meaningful collaboration among the graduate students. My experience at Samford had such a positive impact on my teaching. I am confident in the choices and decisions I make with and for my students and all involved stakeholders. Much of my confidence comes from my time at Samford, all that I learned and how successfully I've been able to implement those learned practices.Kristi Dutton
Tuition, Scholarships and Financial Aid
Tuition
Tuition for in-state and out-of-state students is $813 per credit hour. Tuition may be paid online or at the Bursar's Office and it must be paid by the first day of each semester/term. Policies and methods for tuition and fee payment can be found in the Samford University catalog and the Financial Services website.
Each individual course is 3 credit hours. The cost of books will vary each term. It is best to email the professor of each course (once admitted) for information on books.
The following fees are applicable for the 2017-2018 academic year:
$100 School of Education Fee – applicable each term (fall, Jan term, summer 1, summer 2)
$175 Technology Fee – applicable each fall and spring term
Scholarships
Orlean Beeson School of Education is proud to be able to give every graduate student a scholarship of $750 per course.  Graduate students do not need to apply for this scholarship as it is automatically applied.  The education school will continue providing discounted tuition until coursework is complete. Any additional scholarships are the responsibility of the applicant to secure.
Financial Aid
A financial assistance program administered by the Office of Financial Aid has been established to aid students in attending Samford University.
Education students have the ability to utilize Stafford Loans and Grad PLUS Loans. As an education student, a FAFSA is required to receive either of these loans.
To learn more about financial aid options, please visit the Office of Financial Aid or call 205-726-2905.