Published on December 23, 2014 by Philip Poole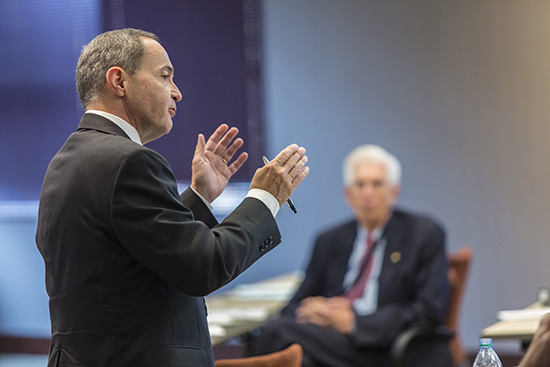 Record giving, record enrollment and campus expansion were among the many highlights of 2014 at Samford University. Although there were dozens of significant news stories during the year, these are the top 10 as determined by the university's news staff:
#1 – Trustees Approve Purchase of Southern Progress Property
In early December, Samford's board of trustees gave official approval to the purchase of the Southern Progress Corp. headquarters located adjacent to the main campus. The property includes 398,000 square feet of building space, 28 acres and more than 1,000 parking spaces.
#2 – Samford Exceeds Fundraising Campaign Goal
Samford exceeded its multiyear, multi-million dollar goal for "A Campaign for Samford" more than four months early. When the largest campaign in university history officially closed on Oct. 31, a total of $202,542,090 had been given or pledged by 18,270 different donors.
#3 – Samford Sets Another Enrollment Record
For the sixth consecutive year, Samford had a record fall enrollment with 4,933 students from 44 states, the District of Columbia and 25 countries.
#4 – Samford Has $335 Million Economic Impact on Alabama
Samford University has an estimated annual economic impact of more than $335 million on the state of Alabama, according to an independent study released in the summer and conducted by researchers with the Center for Business and Economic Research at the University of Alabama.
#5 – Samford Ranked #1 in Alabama by Forbes Inc.
Samford was the top-ranked university in Alabama in the 2014 college rankings released in the summer by Forbes Inc. The ranking was one of several during the year, including 3rd among regional universities in the South by U.S. News & World Report. Nursing graduate programs, law trial advocacy and study abroad also received high national rankings.
#6 – New Strategic Plan Charts Future Course

Samford's board of trustees approved the framework for a new multiyear strategic plan with four main focus areas: emphasize student success, enhance our community, extend our reach and ensure financial strength.
#7 – Fournier Named Alabama Professor of the Year
Geography professor Eric J. Fournier was named the 2014 Alabama Professor of the Year by the Carnegie Endowment for the Advancement of Teaching.
#8 – Construction Begins on New Business School Building
Construction began in early January on a new building to house Samford's Brock School of Business. The building is scheduled to open for the fall 2015 term.
#9 – Weather Creates Havoc During Winter, Early Spring
Several weather-related crises impacted the campus during the spring semester, including a major ice storm that closed the campus for four days in late January. Stories about the community pulling together made national news.
#10 – Sullivan Steps Down as Football Coach; Honored with Field House Renaming
Pat Sullivan stepped down after eight seasons as Samford's all-time winningest head football coach. The 1971 Heisman Trophy winner and his family were honored during the season with the renaming of Sullivan-Cooney Family Field House.
Other top stories during the year included three Fulbright Scholars; student engagement in community service; new deans for law, nursing and pharmacy; a national conference on the Christian intellectual tradition; head coaching changes in men's basketball,men's golf and football; Southern Conference championships for soccer and volleyball; and the centennial of coeducation at Samford.