Samford in the News – February 2015
Published on March 2, 2015 by Philip Poole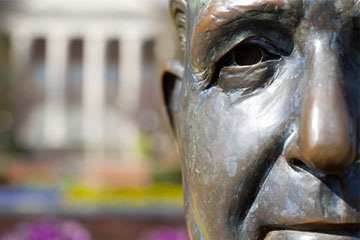 A compilation of selected Samford University references in media outlets around the nation. It is compiled by the Office of Marketing and Communication from the university's media tracking services and may not be a comprehensive list.
Ratcliffe Addresses Healthcare Costs
In a story on the Birmingham CBS affiliate, nursing faculty member Carol Ratcliffe said patients should not assume a cheaper option for health care procedures and services means lower quality care. "You have to look at the complexity of the organization, whether it's an academic medical center, whether it's a part of a system that has very complex services or high tech services," Ratcliffe said.
George Speaks to Proposed Marriage Legislation
Beeson Divinity School Dean Timothy George was one of several Baptist and Catholic leaders quoted in a story distributed widely by Christian Post about proposed legislation altering the definition of marriage. "This proposed change has happened with great rapidity, in about a decade or so, and it is hard to predict how damaging it may be," George said. "Pope Francis spoke to this issue recently when he said that every child deserves to have a mother and a father." The story also was picked up by al.com in Birmingham and several other media outlets.
Epley Recognized for Marshall Award
The Chattanooga News-Free Press featured English faculty member Steven Epley in a recent profile after he received Samford's annual Jennings Marshall Service Award. "When we think of him, we think of kindness, good humor, dedication to Samford, love for teaching and quiet, unassuming, faithful service," Samford Provost J. Bradley Creed said of Epley, who is a former reporter for his hometown newspaper.
Alabama Marriage Law Situation Draws Multiple Responses
Several stories about the various court orders and legal opinions regarding Alabama's marriage laws included interviews with Cumberland School of Law dean Henry Strickland. In an interview with Birmingham's NBC affiliate, Strickland said, "I personally think it makes Alabama look like we are once again not part of the mainstream of the United States. We created black eyes for ourselves in the 1950s in that way and on into the 1960s."
Strickland, Smolin Quoted in Baptist Press Story on Alabama Marriage Law
In a separate story distributed nationally by Baptist Press, Cumberland School of Law dean Henry Strickland and law faculty member David Smolin discussed the potential impact of court decisions on marriage in Alabama. Strickland said recent rulings should not affect churches or pastors in the immediate future because of equal protection clauses. "The state cannot treat people differently on the basis of being a gay couple but that does not mean a private entity like a pastor cannot treat them differently," Smolin explained that potential decisions by the U.S. Supreme Court later in 2015 could affect marriages in Alabama. "It is still possible that the Supreme Court will not hold to gay marriage as a right so ... if Alabama did allow gay marriages between now and June and then the Supreme Court doesn't rule in favor ... it seems out of order," Smolin said.
Retiree Frances Carter Still Recognized for "Riveter" Experiences
Retired education faculty member Frances Carter is getting national attention for her founding of and involvement with the American Rosie the Riveter Association for women who served in non-military roles during World War II. In a story distributed by al.com about the upcoming 70th anniversary of the war's end, Carter talked about how women's roles were redefined because of the war. "We established a legacy of opening the door, breaking the glass ceiling. Women can work now in almost any sort of occupation," Carter said.
Samford Makes Another List of Beautiful Campuses
Samford was named the 28th most beautiful college campus in the South in a new ranking by bestcolleges.com . The rankings were reported widely by several media outlets. " Though every building on Samford's campus is aesthetically pleasing, the Hodges Chapel especially stands out," according to the Samford profile on the website.
Artist, Alumnus Uses Art as Ministry
Lil Prothro, a 2012 graduate, was featured in a recent profile distributed widely by Scripps Media about how she integrates faith with her art. Everything she paints, she said, leads back to God. "It's all inspired from what God creates or a truth or promise; everything stems back to God." Prothro also incorporates art into her work as youth minister for a congregation in Wichita Falls, Texas.
Motley Stresses the Importance of Education
Alumnus Eric Motley, speaking during Black History Month observances at Cumberland University in Tennessee, used his own life story and Samford experience to stress the importance of education. "One of the great challenges we have is the gap between those who can afford an education and those unable to. Increasingly in this country, the American dream is harder to reach,' Motley said. He was introduced by Cumberland education professor Fred Heifner, father of one of Motley's Samford classmates.
Cumberland Garners Attention at University of Alabama
A profile on the president of College Republicans at the University of Alabama included mention of Samford's Cumberland School of Law. In response to a question about his future in two years, current UA undergraduate Michael Cleveland said, "Hopefully at Cumberland Law School at Samford in Birmingham."
White, Carden Share Opposing Views about New Sports Facilities
Business faculty members Darin White and Art Carden shared opposing views in recent stories about possible new sports facilities in the City of Birmingham.  In one story , on Birmingham's ABC affiliate, White said, "Our facilities are really starting to fall behind and every year that goes by, they're getting more and more dated. Birmingham folks constantly go to Atlanta. It's because they're invested in those facilities. There's no reason we shouldn't have those opportunities in Birmingham." According to Carden, "The best available evidence suggests stadiums and convention centers are economic loser for the cities who build them because they cost sometimes hundreds of millions of dollars. What they ultimately do is not create a lot of economic activity but redistribute economic activity already happening in the economic area."
Demand for Organic Groceries Strong in Birmingham, Eason Says
Business school marketing faculty member Clif Eason says that the recent influx of organic grocery stores in the Birmingham area is market-driven. In an i nterview aired by Birmingham's ABC affiliate, Eason said, "At this point, the market for organic groceries is large enough and growing fast enough that there's still room for additional players in the Birmingham Market,"
Barnette Speaks to Report on Alabama's 'Bible-mindedness'
In a story distributed by the Gadsden Times, religion professor Jim Barnette, raised concerns about a recent study that said the Birmingham metropolitan area was the most Bible-minded in the U.S. Explaining that knowledge and application are not always the same thing, Barnette said, "We're saturated with it here. We're less challenged to live it out." 
Thornton: Wal-Mart's New Starting Wage Rate Likely Won't Affect Consumers
There are several options for Wal-Mart to find the funding for a recently announced starting wage increase to $9 per hour, according to business faculty member Jeremy Thornton. In an interview distributed widely by Birmingham's ABC affiliate, Thornton noted that Wal-Mart's reputation as a low-cost provider likely means that the increase won't affect customers. "Wal-Mart operates in a very competitive market place. So, I think it's going to be very difficult for Wal-Mart to pass along those costs in any way that's going to be really meaningful to people."
Keller Discusses Scientific Validity of 'Messages from God'
In a story aired on Birmingham's CBS affiliate arts and sciences assistant dean George Keller discussed an area family's belief that their dying sons were receiving and relating "messages from God" and how that changed their views on death. "Many people would say it's a non-scientific view that God exists, but I'll also say it's a non-scientific view that there are multiple universes," Keller said. "The short answer is I don't know."
Pharmacy Students Garner National Attention
Patient advocacy initiatives by McWhorter School of Pharmacy students gained national attention through a story distributed by Pharmacy Times. Samford students participated in a policy postcard challenge to gain attention with legislators about patient care. "This initiative aims to merge patient care and grass roots advocacy," said student Jessica Carver, president of Samford's AphA-ASP chapter.
Based on the university's media tracking services, Samford received 807 mentions in various media outlets during this period. Other stories that generated multiple local, regional and/or national attention for Samford included arts, athletics and alumni achievements.
#####
ABOUT SAMFORD UNIVERSITY -- Samford University is a premier nationally ranked private university deeply rooted in its Christian mission. Founded in 1841, Samford is the 87th oldest institution of higher education in the United States. U.S. News & World Report ranks Samford 3rd among regional universities in the South. Samford enrolls 5,509 students from 45 states, the District of Columbia and 29 other countries in its 10 academic units: arts, arts and sciences, business, divinity, education, health professions, law, nursing, pharmacy, and public health. Samford also fields 17 NCAA Division I teams that compete in the tradition-rich Southern Conference.