Published on February 9, 2016 by Emily Duval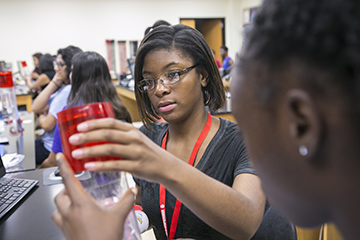 Samford University is offering the chance for students of all ages to discover various topics of interest through summer programs. With 19 camps, there is a program fit for all students looking to explore unique interests. 
Piano and Chamber Music Institute, June 5–11, grades 7–12
Students further their performance abilities while increasing their knowledge of music. 
Athletic Training Summer Clinic, June 10–12, grades 9–12
Learn about careers in athletic training, sports medicine and physical therapy. Students participate in hands-on demonstrations. 
Alabama Governor's School, June 12–24, grade 12
This program provides academic, creative and leadership experiences for gifted high school seniors. Students are nominated by their high schools. Note: This is an invitation-only event.
Imagine! Drama Camps, June 13–17 and June 20–24, grades K–12
This one-week (for grades K–5) and two-week (for grades 6–12) camp gives students the chance to plan, create and participate in a theatre production. 
Great Ideas Summer Institute, June 19–24, grades 11–12 (rising)
Students engage in lively discussions about Great Books with faculty members and other exceptional high school students. 
Quantitative Finance Summer Institute, June 19–24, grades 11–12 (rising)
Students study business methods used in modern finance with faculty and professionals. 
Animate, June 20–24 or June 27–July 1, grades 8–12
Animate is an academy in worship, theology and the arts for high school students and their mentors. Register as an individual or a team from your school or congregation. 
Bulldog Pharmacy Camp, June 26–July 1, grades 11–12 and college freshmen
In this overnight camp, learn about careers in pharmacy, participate in hands-on pharmacy lab demonstrations and tour local health-care facilities. 
Micah 6:8 Summer Institute, June 26–July 1, grades 11–12 (rising)
Based on the verse Micah 6:8, students study concepts of justice, mercy and humility. As a part of this study, they will meet with experts on Birmingham's civil rights legacy. 
Minority Youth Science Academy, June 26–29, grades 9–12
This program offers college preparation and mentoring for outstanding minority students interested in science. 
Summer Debate Institute, June 26–July 9, grades 9–12
Students learn 21st-century debate skills to compete at the highest levels. 
J.D. Calling, June 27–30, grades 11–12
This program features expert panels, a mock trial, analysis of legal cases and advice about law school application. 
M.D. Calling, June 27–30, grades 11–12
This program features premedicine advising, expert panels, networking and field trips. 
The Martian Frontier, June 27–30, grades 11–12 (rising)
Students explore cutting-edge science and the challenges of a human mission to Mars.    
Samford's Academy of the Arts also is offering several summer programs. 
Writing Camp, June 6–10 or July 25–29 for ages 11–15
Learn how to become a better writer and submit your work in contests and publications. 
Adventures in Music Camp, June 13–17 (piano) or July 11–15 (piano or voice), grades 1–12
Students will enhance their solo and ensemble performance, and gain a greater understanding of music history and theory knowledge.
Art Studio for Teens, June 20–24, grades 6–8
Students use various art media for creative projects with experienced artists. 
Bulldog Art Camp, June 27–July 1, grades 1–5
With the help of experienced art instructors, students will see, touch, hear and feel the vocabulary of art by incorporating color, line, shape, texture, space, value, form, balance and rhythm. 
All Aboard for Music Camp, July 18–22, ages 3–6
A learning experience for preschoolers ages 3–5 and 6-year-olds who have not attended first grade, campers a week of singing, movement, listening activities, music literature features, crafts, orchestral instruments and learning centers. 
Academy of the Arts information and registration 
Emily Duval is a journalism and mass communication major and a news and feature writer in the Division of Marketing and Communication.