Published on February 1, 2017 by Philip Poole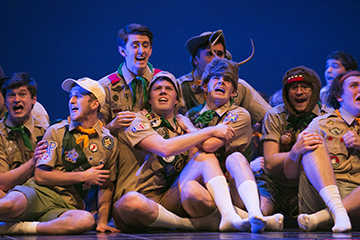 by Erin Bognar 
As Samford University's Step Sing weekend approaches, alumni, parents and friends around the world are preparing to host live watch parties. Step Sing is the annual student-produced and directed talent show, which this year features more than 1,100 participants. This year's shows are Feb. 9–11. 
People who are not able to attend Step Sing in person can live stream and request a watch party kit from the Office of Alumni Programs and Annual Giving. Hosts will receive everything they need to hold a festive event in their home, according to Casey Ramey, director of alumni programs. 
"We have watch parties taking place all across the country, including New York, Florida, Ohio, Arizona, Georgia, D.C., California, Texas, Tennessee and Alabama. We are expecting more than 50 watch parties to take place," Ramey said. In 2016, there were 151 parties with 1,299 participants registered in 20 countries, including students studying at Samford's London Center. 
The Office of Alumni Programs started shipping packets across the U.S. the week of Jan. 23 and will continue on a rolling basis as registrations are received. Because of timing and cost, watch party kits cannot be shipped overseas.
The watch party kit includes a watch party poster, Step Sing ballots, a Step Sing Sweepstakes trophy pop-up, balloons, step Sing stickers and watch party invitations.  
Registration for watch parties is open until Monday, Feb. 6.
Erin Bognar is a journalism and mass communication major and a news and feature writer in the Division of Marketing and Communication.