Published on May 10, 2017 by Philip Poole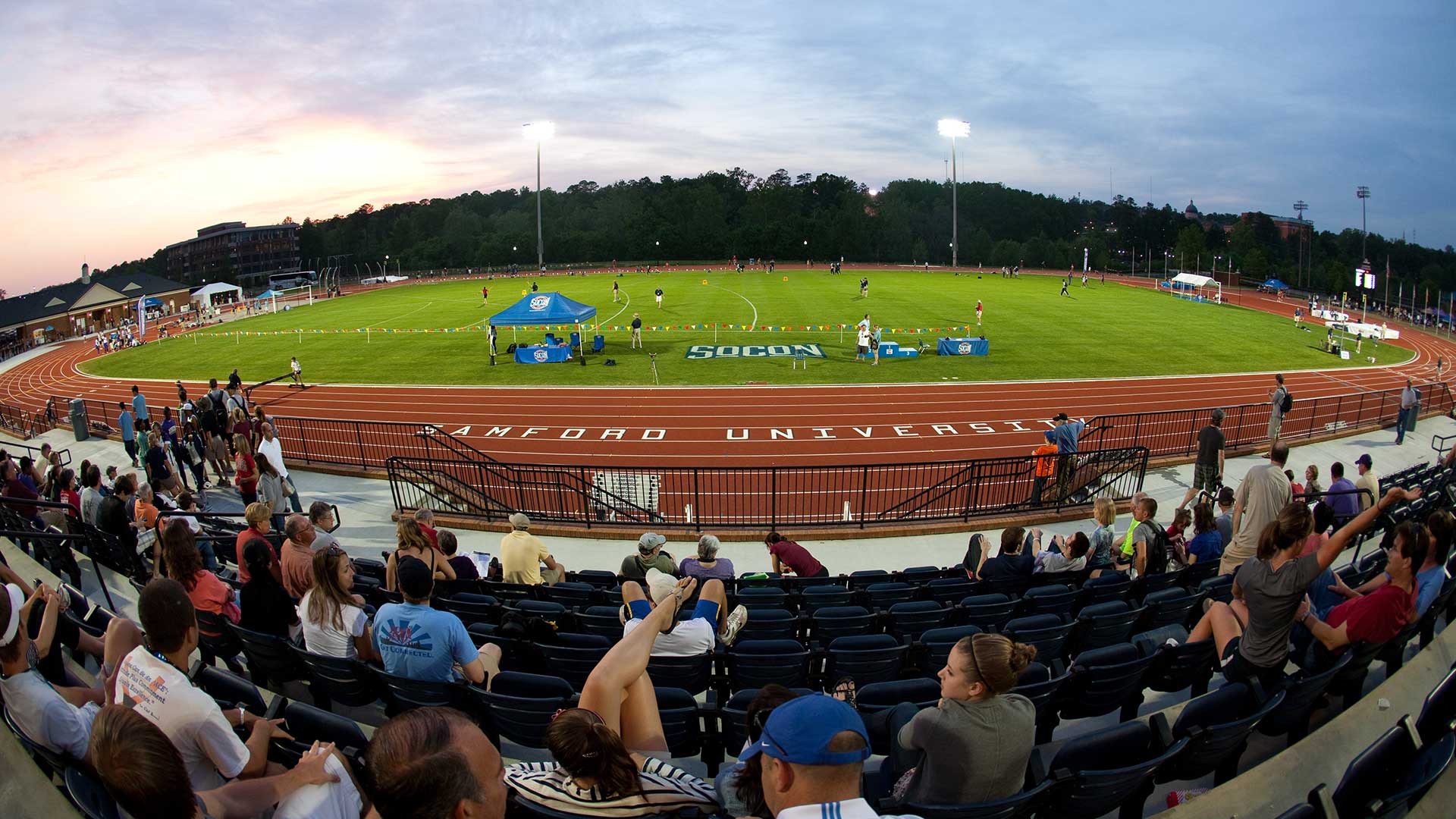 by Zac Schreiber 
The Samford University track and field teams will host their biggest competition of the 2017 spring season this week as the Bulldogs welcome some of the top athletes in the Southeast to the 2017 Southern Conference Outdoor Championships, which will be held May 12–13 at the Samford Track and Soccer Stadium. 
The Bulldogs, who have only been members of the SoCon for nine years, will host the league's top meet for the third time in seven seasons and the second time in three years. The 2017 SoCon championships will be the 93rd edition of the men's tournament and the 31st of the women's. 
The 2011 championships were the first event held in the Samford Track and Soccer Stadium. 
Last year, Samford's women's team placed second in the outdoor championships, while the Bulldogs' men's team earned a third-place finish. 
The 2017 SoCon Outdoor Championships are slated to begin Thursday at 8 a.m. with the women's 10,000-meter run. The final scheduled event of the day is the men's 3,000-meter steeplechase, which is tabbed to begin at 5:40 p.m. 
On Friday, the final day of competition is scheduled to begin at 8:45 a.m. with the decathlon. The SoCon Championships will end with the highly anticipated 4 x 400-meter relay for both  women and men. The women's event is slated to begin at 4:25 p.m. with the men's following at 4:35 p.m. 
In January, Samford's women's team collected its second-straight SoCon Indoor Championship as the Bulldogs blew away the competition with 208 total points en route to a dominant 56.5-point margin of victory over second-place Western Carolina. 
Samford's men also turned in a record-setting performance at the 2017 SoCon Indoor Championships. The Bulldogs placed second in the event for a second-straight season. 
Competing for the Samford women's team this week will be the following 28 student-athletes: Lauren Beard, Camille Caldwell, Abigail Cutcliffe, Racel Dixon, Emily Eustace, Sarah Fairchild, Emma Garner, Erin Hines, Aerial Horton, Maggie Johnston, Lindsey Kessler, Charlotte Krause, Sarah Lee, Anna Long, Shian Mallory, Tonia McKinley, Megan Meadow, Carrie Neill, Karisa Nelson, Qiona Payton, Bekah Pfitzer, Tiana Pisoni, Selena Popp, Courtney Prengaman, Tatiana Taylor, Lauren Torsch, Presley Weems and Victoria Wicks. 
The following 28 Bulldogs will be competing for the Samford men's team: Owen Bailey, Marquis Barnes, Austin Billings, Ben Bryant, Shelby Campbell, Caleb Carter, Dillon Dean, Hugh Duggan, Keyth Fightmaster, Gavin Gautreau, Arsene Guillorel, Brandon Hazouri, Jonathon Helton, Carson Howe, Javion Lee, Tray Oates, Jordan Oballe, Drew Patterson, Paul Richardson, Michael Rohdy, Josh Salter, Hunter Schlatter, Brian Smith, Dominic Smith Jr., Emmanuel Tait, Chris Thrasher, Jay Vines and Jon Waarvik. 
For results, schedule updates, breaking news and links to all of your favorite articles featuring the Bulldogs, please follow @SamfordTrack and @Samford_Sports on Twitter. 
Zac Schreiber is director of athletics communication.