Published on February 5, 2018 by Sara Roman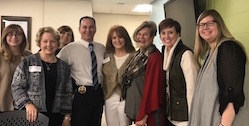 "Hot Topics in Education" is the emphasis for Samford University's Orlean Beeson School of Education Dean's Education Council (DEC) during the 2017-18 academic year. The topics of discussion have been identified as crucial current education issues affecting students, faculty, staff, administrators and parents.
For the most recent meeting, DEC members welcomed Lt. Clay Hammac, commander of Shelby County's multi-jurisdictional Drug Enforcement Task Force, to discuss current drug trends, common indicators of drug abuse and overall drug awareness.
"Lt. Hammac and his topic of discussion were especially interesting because drug abuse is affecting not just our school systems but many citizens in America," said council member Mary Wyatt of Birmingham.
Hammac commands a dozen highly trained and specialized criminal investigators, who specifically focus their efforts on intercepting the sale and distribution of illegal narcotics. A career law enforcement officer, Hammac has specialized in violent crime investigations, organized crimes, and electronic, financial and white collar criminal investigations. Hammac has appeared before the United States Congress as an expert witness on the investigative techniques used to track white collar and organized crime networks.
Just in the last two years, Hammac's team of investigators has made more than 2,000 criminal cases against drug dealers, disrupted more than three dozen organized narcotics supply chains, and taken down five organized criminal enterprises involved in the sale and distribution of drugs throughout multiple states. 
Hammac's presentation covered the areas of current drug trends, common indicators of drug abuse, commonly abused drugs, as well as, prevention and awareness resources.
"Highlighting the important academic topics affecting the welfare, progress, and success of students, helps our DEC members clarify misconceptions and misunderstandings. It also gives them a knowledge-base to explain the subject when working in the community," said Sonia Carrington Dean's Executive Council chair. "Members of the DEC committee consist of a vast variety of professions, which has proven advantageous to the education school. Keeping DEC members up-to-date on these hot topics allows the education school to receive valuable input from different perspectives and assists the school in growing its information-base to become bold advocates of teacher leader preparation."
The council meets quarterly to discuss the "Hot Topics" and provide the education school with encouragement and direction. In the fall, they discussed "Facts and Myths Concerning Charter Schools" with Matthew Campbell, assistant professor of education at University of North Alabama. He was able to clarify questions resulting from the passage of Alabama's Charter School Bill in 2015. Campbell is a graduate of Orlean Beeson School of Education. 
For more information on the Dean's Executive Council or to view current list of members please visit our official webpage. To learn how you can become a member contact Sheri Ransome at shransom@samford.edu.