Published on November 3, 2021 by Sarah Waller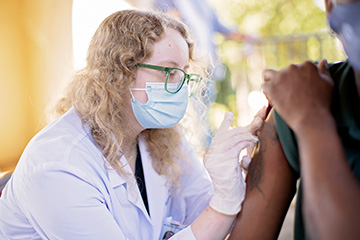 For a week in October, third-year students in Samford University's McWhorter School of Pharmacy participated in an introductory pharmacy practice experience, or IPPE, course focused on community health. Over the course of five days, students worked a total of 40 hours in a community pharmacy, administering vaccines, counseling patients, conducting medication therapy services, and interacting with preceptors. 
As a result, the 117-person class administered a total of 8,607 vaccines to members of the Birmingham community, which is a new school record. This total equates to, on average, 74 vaccinations administered per student. The vaccines included prevention for COVID-19, influenza, pneumococcal, shingles and other diseases.
"Pharmacists serve a critical role in administering vaccines to the community. With the addition of the COVID-19 vaccines this year, we knew our numbers would increase, but we are amazed by the impact our students made in the community in just a matter of days," said Jeff Kyle, vice chair and director of experiential education at McWhorter School of Pharmacy.
"We want our students to know and appreciate the key role they play in public health, and even more than that, we want this experience to be one that supports their personal growth as a student pharmacist, preparing them to be practice and team ready," Kyle said.
In their second year, pharmacy students complete course work in a community pharmacy setting, with a concentrated public health focus, where they are responsible for vaccinations, conducting physical assessments, completing medication therapy management services, and other activities related to health and wellness. In addition, students earn an APhA certification in medication therapy management (MTM). So, the IPPE course in students' third year is an opportunity for them to apply the knowledge and skills they've already learned.
"This IPPE helped me put everything I've learned during the last two years in pharmacy school together. I felt more confident talking to patients as well as in my knowledge regarding medications," said a student in a survey following the course. "I gained a lot from this experience, and my preceptors were wonderful and made sure I had a full experience."
"While the numbers from this year's third-year IPPE course are impressive, the impact on the patients' lives is even greater," said Michael Crouch, dean of McWhorter School of Pharmacy and associate provost of Samford's College of Health Sciences. "I'm so thankful for our community partners and preceptors who help make this experience possible."