Samford Worship is a creative worship collective housed in the Center for Worship and the Arts in the School of the Arts at Samford University in Birmingham, Alabama.
As our in-house recording initiative, Samford Worship serves as the hub for worship music produced by Samford worship students, faculty, and staff, including our Campus Worship Team, the Worship Arts Ensemble, and the worship songwriters who call the Center for Worship and the Arts home.
Releases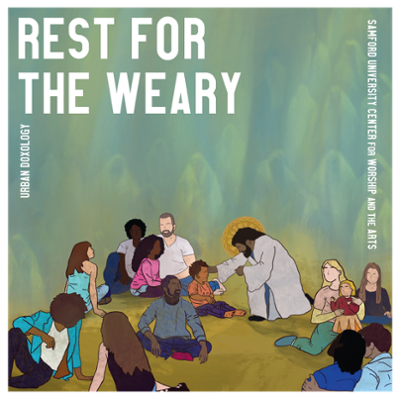 As part of Animate Flex this summer, the Center for Worship and the Arts commissioned Urban Doxology to help write, record, and produce an album of original worship music centered around the theme of resting in Christ. The result is a brand new EP, Rest for the Weary, which will be released this Friday, October 30th. In addition to new songs from Urban Doxology, the collaboration also includes the theme song for Animate Flex "Wait on the Lord," written by CWA Associate Director Wen Reagan AND "Falling Completely to Your Love" by Animate Flex student songwriting contest winner Kirin Miller. Album cover artwork was designed by Samford University graphic design student and CWA student resident Marlee LaCkore. The CWA is pleased to join with Urban Doxology to offer this collaborative release for the glory of God, for the good of the church.
Check out Rest for the Weary on Spotify, Apple Music, and other online music services and stores.