Published on October 24, 2018 by Madison Hablas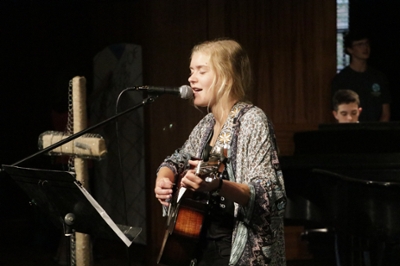 Lauren is passionate about worship leadership and devotes much of her time to serving at church, at her school's Fellowship of Christian Athlete (FCA) meetings, and on mission trips. 
In the Summer of 2018, Lauren had the opportunity to travel on an international mission trip while serving as the worship leader for the week.  Their team worshiped outdoors without a sound or projection system, which was unlike her usual environment back home.  Nonetheless, the experience changed Lauren's perspective, and she came to see that this simple and unpolished environment opened the doors for the Holy Spirit to move.
Back home, Lauren leads worship for several churches within her community.  She leads on Sunday mornings, Wednesday nights, and for a few different student worship teams.  This past month she had to opportunity to plan and lead a community-wide worship night for students in her area.
When preparing to lead worship through music, Lauren starts by praying through the scripture for the service.  She then prays through the songs she will be leading, in addition to practicing them.  Lauren believes that it is important to prepare her heart for worship and ask that God use her as a vessel to bring Him glory.  Lauren often seeks discipleship and guidance from her mentor, Cory, who serves as the head worship pastor at her church.
As a worship leader, Lauren regularly experiences how music can create space and time that is welcoming to God's people and filled with the Spirit.  She believes that music creates a way for people to connect and commune with God. 
Lauren attended Samford University's five-day summer program in worship leadership, Animate, this past summer.  There she learned and practiced worship leadership skills, and then brought them back to her local church.  But perhaps more importantly, Animate broadened Lauren's knowledge of different forms of worship, giving her a new appreciation for the history and diversity of worship in world.  In particular, she left Animate with a greater understanding and appreciation for global worship and the joy we all share in worshiping our creator, regardless of language or culture.