Summer Swim
The Department of Kinesiology's Summer Swim program holds swimming lessons for children ages 4 to 15 in the Birmingham area. Established in 1960, the program supports swimming lessons for about 128 children each summer. Summer Swim follows the American Red Cross Learn to Swim Program.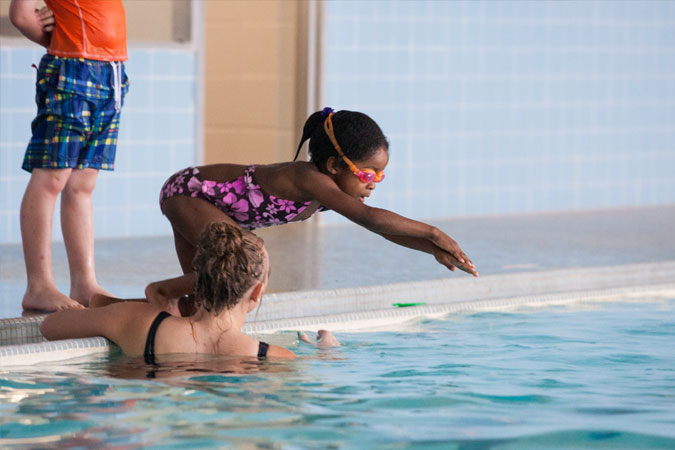 Register Online or Download the Printable Guide to Registration

Cost for Summer Swim is $110.00 for each child and registration opens February 21 at 9:00 p.m.  Classes meet Monday through Thursday for two weeks, and classes are limited to 16 children with five teachers, a lifeguard and a supervisor. In classes where four to 15-year-olds are together, children will be grouped according to age and skill level.  Please note:  Our policy is that parents remain off the pool deck and balcony until the last day of class. Cancellations must be made at least two weeks before the beginning of a class. No refunds will be issued if cancellations are received after this time.
New this year is the opportunity for girls ages 11 to 15, who have passed at least Level 5, to take Synchronized Swimming.  Classes are not set at this time. If you are interested in this class, please email Dollie Brice at dgbrice@samford.edu.
2015 Summer Swim Class Schedule
All sessions for ages 4-15 years.
 June 1-11 (Mon.-Thurs.)
Session 1 - 12:30-1:15 p.m. 
Session 2 - 1:20-2:05 p.m.
Session 3 - 2:10-2:55 p.m.
Session 4 - 3-3:45 p.m. 
June 15-25 (Mon.-Thurs.)
Session 5 - 2:15-3:00 p.m.
Session 6 - 3:05-3:55 p.m.
Session 7 - 5:00-5:45 p.m.
Session 8 - 5:50-6:35 p.m. 

Download the Indemnity Form.