The Student Success Mentoring Program (SSMP) provides students with an excellent opportunity to receive consistent guidance and provides alumni an opportunity to advise and impact the next generation of lawyers.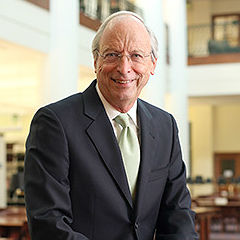 The SSMP program pairs our students with outstanding alumni who will give them a real-world insight into the practice of law. It's a wonderful enhancement of Cumberland's high-quality education program. Judge John L. Carroll, '74
By connecting students with local lawyers and judges, SSMP gives students the opportunity to learn skills and gain the professionalism needed to practice law. These are the "soft skills" difficult to gain in any academic setting that are important for expanding their current and future contacts in the legal community.
Mentors assist students in defining and accepting their future roles as lawyers and serve as models in dealing with clients, colleagues, the courts and the community. Students are matched—as closely as possible—with alumni mentors based upon the student's interests, geographic preference, and the alum's area(s) of practice and location. Each mentor/mentee relationship is for one year. At the end of the year, the mentor and mentee can decide whether or not they would like to continue the relationship.
Mentors' Commitment
Respond to contact initiated by the mentee (mentee is selected by Cumberland School of Law)
Schedule meetings with mentee in a timely manner
Spend at least two hours per month fostering the mentor/mentee relationship
Assist students in defining and accepting their future roles as lawyers
Serve as models in dealing with clients, colleagues, courts and community
A mentor/mentee relationship of one year