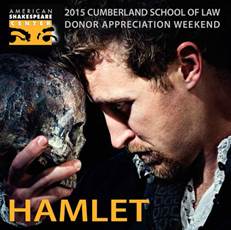 Cumberland held a Donor Appreciation Weekend February 14-15 to celebrate the successful conclusion of the Pride. Promise. People. Capital Campaign.
Judge Thomas W. Thrash, Jr., U.S. District Court for the Northern District of Georgia, opened the fast paced, lively weekend with the first of four events, the CLE, Shakespeare and the Law. "Shakespeare and the law. Upon first hearing, this may seem to be an odd choice of material for a CLE program. After all Shakespeare was not a lawyer. But, there is much to be learned from him. To start with, in my opinion, Shakespeare was the greatest writer in the history of the English language. Words – whether written or spoken – are the tools of our trade as lawyers. So time spent reading a Shakespeare play or watching one performed is never time wasted," Thomas said.
Ralph Alan Cohen co-founder of the American Shakespeare Center, took CLE participants in the John Carroll Moot Court Room along with a merry band of actors on a journey through "Doctor Faustus" and contract formation, "Hamlet" and justice and justification and "Much Ado About Nothing" on motive and examinations.
The Great Room was transformed into an Elizabethan theatre for the weekend. The three performances were attended by approximately 435 donors. Guests enjoyed "Doctor Faustus," "Much Ado About Nothing" and "Hamlet." Sunday's "Hamlet" matinee included a Talk Back with the actors about the tragedy of the Prince of Denmark.
Thank you again to our gracious donors who made the Cumberland Capital Campaign Pride. Promise. People. so successful. Thank you also to the sponsoring law firms of Wallace, Jordan, Ratliff & Brandt and Hare, Wynn, Newell & Newton who made the Donor Appreciation Weekend possible.