Published on August 30, 2019 by Katie Stripling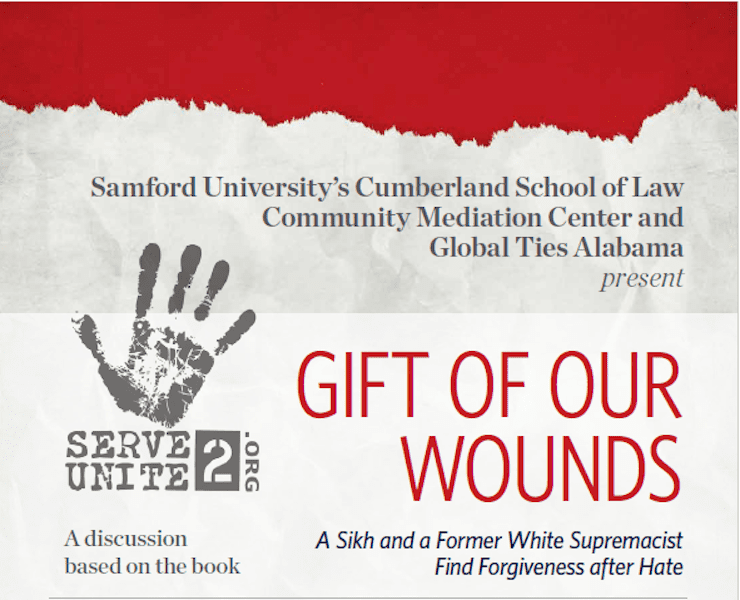 Samford University's Cumberland School of Law Community Mediation Center, in partnership with Global Ties Alabama, will host Serve 2 Unite in Samford's Brock Recital Hall on October 2 at 6 p.m. The evening will feature a discussion with Serve 2 Unite's founders Pardeep Singh Kaleka and Arno Michaelis, based on their book Gift of Our Wounds: A Sikh and a Former White Supremacist Find Forgiveness after Hate.
Kaleka lost his father in the Aug. 5, 2012 shooting at the Sikh Temple of Wisconsin; Michaelis, a former white supremacist, helped start the gang that produced the Aug. 5 shooter. According to their website, the two formed Serve 2 Unite to "establish a healthy sense of identity, purpose and belonging that diverts young people from violent extremist ideologies, gun violence, school shootings and other forms of self-harm." Serve 2 Unite works closely with school administrators and educators to facilitate tailored programs on a variety of social issues for students and parents.
"It is important for all of us to stop and listen to the real-life experiences of those who have lived through traumatic events," said Cassandra Adams, assistant dean of Cumberland's Public Interest Program and director of the Community Mediation Center. "Doing so creates a space for truthful dialogue, which clears the pathway toward genuine understanding and acceptance of each other. "
Serve 2 Unite's programs are grounded in solution-based problem solving, global connection, service learning and artistic expression. In addition to the discussion, the event will include a special musical performance by Samford arts student Theo Edwards-Butler and assistant professor of Piano Jason Terry.
According to Adams, the event aligns well with Samford's mission and values. "Samford's core values include a lifelong commitment to personal empowerment, accountability, responsibility, integrity, honesty and justice," she said. "It is my hope that our conversation with Arno and Pardeep will encourage our community to remain aligned with those values so that we can live peacefully with one another."
The event, which is open to the public, has been approved for university convo credit and one professional development credit hour for educators. There is no cost to attend, but reservations are requested and space is limited. 
A book signing will follow the discussion. Little Professor will be on site with copies of the book for purchase. 

Established in 2005, Cumberland's Community Mediation Center is the only community mediation center in Alabama offering free, confidential meditation to all communities surrounding the law school. Attorneys, community members and law students who have completed the mediator practice course volunteer to mediate for the center. The center's cases come from Alabama's largest county court system, Jefferson County, including circuit court, family courts, district court and small claims court.
Global Ties Alabama, formerly the International Services Council of Alabama, promotes international relationships through citizen diplomacy and enriches Alabama's education, commerce and global awareness. Their vision is a peaceful, prosperous world where individuals build enduring relationships through international exchange.