Published on November 14, 2018 by John Bacon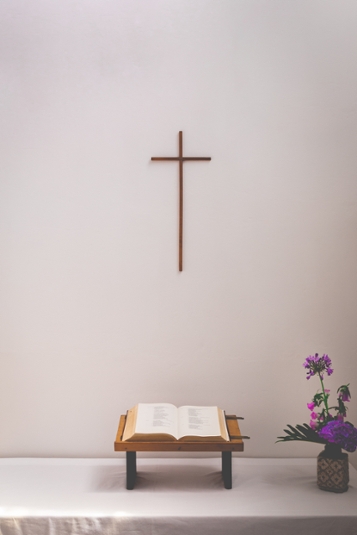 But we have this treasure in jars of clay, to show that the surpassing power belongs to God and not to us. We are afflicted in every way, but not crushed; perplexed, but not driven to despair; persecuted, but not forsaken; struck down, but not destroyed; always carrying in the body the death of Jesus, so that the life of Jesus may also be manifested in our bodies. For we who live are always being given over to death for Jesus' sake, so that the life of Jesus also may be manifested in our mortal flesh. So death is at work in us, but life in you. (2 Corinthians 4:7-12, ESV)
Days after graduating from Beeson Divinity School, I am flat on my back, clutching for air, praying for mercy. Another panic attack has come, and I wonder how in the world I am going to plant a church when I can barely even move. "How will I ever plant a church like this?"
"This is why you are planting a church, John. My grace is sufficient in your weakness." The weight of that still voice, the weight of that overwhelming peace, pushed far deeper into me than the panic I fled.
The Might of God in Human Weakness
There are many biblical ways that we validate a minister's call to proclaim the gospel, including their devotion to God in doctrine and praxis. But when Paul's validity was called into question, he defended it by boasting in the gospel itself, and especially its sufficiency and power revealed through his own suffering and weakness (2 Corinthians). Paul's résumé of apostolic weakness is impressive (I do not envy it). And Paul is not alone in this regard; God has shone the light of the gospel through countless jars of clay throughout the centuries, using their weaknesses as a platform for the gospel rather than as a roadblock.
Anfechtungen
While Luther was hidden away in a Wartburg Castle, Melanchthon was nearly hoodwinked by the Zwickau prophets. They could speak powerfully about glory and sweetness. Their ministry was legitimized by their exotic spiritual experiences. Luther, however was not impressed. He noted the apparent absence of weakness in their theology and their lives. Had they ever experienced the attacks of depression and despair that Luther faced, the anfechtungen?
In his book Martin Luther: The Man Who Rediscovered God and Changed the World, Eric Metaxas attempts to describe Luther's experience of Anfechtungen:
The word Anfechtung really has no English equivalent. It has at its root the verb fechten, which means "to fetch with" or "to duel with." Fecht is also obviously etymologically related to the word "fight." So Luther's Anfechtungen meant to do battle with one's own thoughts and with the devil…This is the very thing that has driven people to their suicide throughout the centuries. It is hopelessness made real, or to use Milton's famous phrase, "darkness visible [.]"[1]
Luther describes it himself:
For more than a whole week I have been tossed to and fro in death and in hell, so that I am still drained of all strength in my body and am trembling in all my limbs. I have lost Christ completely and have been shaken by the floods of and storms of despair and blasphemy. However, as moved by the prayers of the saints, God has begun to have mercy on me and snatch my soul from deepest hell.[2]
Why men and women so deeply committed to the gospel as the Apostle Paul and Martin Luther face such deep spiritual turmoil is a mystery to me. However, I have seen attacks of the enemy on my own well-being—spiritually, emotionally, and physically—throughout my life, and they seem to coincide with God's own mysterious work in me to set me aside for the gospel.
The Life of Jesus in our Mortal Bodies
Perhaps it is through fighting battles that we cannot win—battles against our own sinfulness, against persecution from enemies, against mortality for those we love—that we discover the victory of Christ over sin, death, and evil. The events and tragedies that have exposed my weakness have also brought the resurrection of Jesus to light. "For what we proclaim is not ourselves, but Jesus Christ as Lord, with ourselves as your servants for Jesus' sake." (2 Corinthians 4:5).
The power of the gospel in us is so potent I do not believe that we would ever begin to grasp it if it were not for encountering our own weakness as its dramatic backdrop. If strongholds did not buffet against the Word of God, we would not witness the Word's demolishing and renewing power.
Christ came to us in the weakness and vulnerability of our own little flesh, and in doing so, he atoned for the sins of the world, released us from the condemnation of the law, overpowered death and defeated hell. In the weakness of our flesh, where we have been claimed in baptism, where we are nourished in the tangibility of the Eucharist, we encounter that same salvation.
Rather than running from our weakness or denying it, we boast in the very place where Christ's sufficiency is proven. Because the Holy Spirit has kept me in the faith of Christ and the love of God, the attacks of hell have served to increase God's own résumé of faithfulness and victory. The Psalms tell me that God keeps our tears in his bottle. In God's providential work, they surely amount to something beyond what I can see.
Returning to Baptism
In those moments that feel like drowning, the Spirit brings me back to my baptism. When I feel trapped in anxiety, there is something in me deeper that is holding on to the glory yet to be revealed. Assaulted by doubts and lies, the blood of Jesus speaks a better word. When life-threatening incidents crash close to home, I know that I belong in the place that I am church planting, not because I am welcome but because I am sent. When I am weak, then I am strong. For he who is in me is greater than he who is in the world. Through my ordination, I am sent in apostolic manner to this present world. Through God's promise to me in baptism, I belong to the world to come, where this mortal life must put on immortality.
John Bacon graduated from Beeson Divinity School in May of 2017. He currently serves on staff at Apostles-by-the-Sea Anglican Church in Panama City Beach, Florida where he is being trained and equipped to plant another Anglican church in the area. 
[1] Eric Metaxas, Martin Luther: The Man Who Rediscovered God and Changed the World (New York: Viking, 2017), 28.
[2] Quoted in Metaxas, Luther, 383.