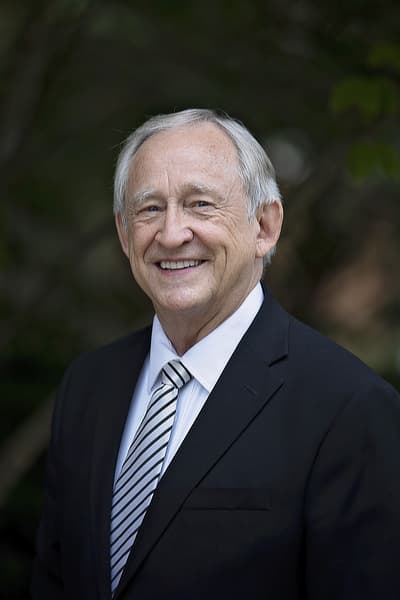 Thank you for your willingness to support Beeson Divinity School! Our roots are firmly planted as we see our third decade in plain view. We reflect on the gracious foundation laid by Ralph Waldo Beeson, which secured the vitality of our institution and afforded Beeson Divinity School the ability to seek and establish excellence in all areas of community and academics. God's call for Beeson and those who support her mission is to shore up resources for the next years. We pray for such provision so we can continue to offer scholarship assistance, endow faculty and staff resources, and for an interdenominational body of dedicated students who, above all else, are men and women of God. Your giving to Beeson is an answer to these prayers. May God bless you as He blesses this divinity school through your support.
Gary Fenton, Advancement Officer
Academic Programs
Charles T. Carter Endowed Baptist Chair of Divinity
The charter of Beeson Divinity School specified that funds must be allocated to endow Presbyterian, Methodist and Anglican faculty chairs.  It is our desire to see a Baptist chair fully endowed alongside these existing chairs.  This chair, named in honor of Dr. Charles Carter, has reached an endowment level strong enough to name Dr. Robert Smith, Jr. as its first incumbent.  The chair is yet to be fully endowed, and we continue to invite contributions.
Scholarships
Beeson Divinity School Alumni Fund
The Beeson Divinity School Alumni Fund is dedicated to scholarships for Beeson Divinity School students who need financial aid.
Student Scholarship Fund
All full-time Beeson Divinity School students receive scholarship assistance from the Student Scholarship Fund. Your contribution goes directly toward sustaining and increasing our ability to keep Beeson affordable and attractive to potential and current students.
Timothy George Scholarship for Excellence
This scholarship was established in early 2016.  Its purpose is to honor Beeson's founding dean, Dr. Timothy George, and to shore up significant resources for fully-funded tuitions available to the next generation of excellent candidates for Christian leadership.
Dr. Robert Smith Jr. Endowed Scholarship
The Dr. Robert Smith Jr. Endowed Scholarship was established to honor longtime faculty member Dr. Robert Smith Jr. for his more than twenty years at Beeson and his more than fifty years of preaching God's Word. This scholarship will provide significant financial assistance to outstanding applicants who are called to the preaching ministry.
Dr. Kenneth Mathews and Dr. Frank Thielman Scholarship
The Dr. Kenneth Mathews and Dr. Frank Thielman Scholarship was established in honor of the two longtime Beeson professors.
Dr. Gordon Bals Endowed Scholarship
The Dr. Gordon Bals Endowed Scholarship was established to honor Dr. Gordon Bals, associate professor of divinity for pastoral care, for his work in the Birmingham area through his teaching, writing and work as the founder of Daymark Pastoral Care Counseling. The scholarship will be awarded to Beeson students pursuing a Master of Arts in Christian Counseling degree.
Sue Meadows Auchtmuty Scholarship
The family of Sue Meadows Auchmuty established an endowed scholarship in her honor. Sue Meadows Auchmuty was one of 10 siblings in a one-car, blue-collar working family. Neither her employment in retail sales on weekends and holidays nor on the graveyard shift in a textile plant in the summer would be enough to complete her education. Financial assistance was a must. She proved to be a good steward of that sacred trust by applying herself, making good grades and becoming a high school math teacher. She was married to Dr. James A. Auchmuty, Jr., who served as the senior pastor of Shades Crest Baptist Church in Hoover, Alabama, from 1972 to 1999.
General James M. Hutchens Military Chaplain Scholarship
The General James M. Hutchens Military Chaplain Scholarship was established to honor the ministry of General James M. Hutchens and to provide financial assistance to men and women called to military chaplaincy.
Solid Foundation
Beeson Divinity School Fund
A gift to the Beeson Divinity School Fund supports our operating expenses including faculty development, the Lay Academy of Theology, preservation of Hodges Chapel, and our annual lecture series.
Ways to Give
Donate by Phone
Make a credit card gift or pledge over the phone by calling 205-726-2824.
Donate Stock and Mutual Funds
The benefits of donating appreciated securities (stock or mutual funds) are numerous. In addition to avoiding capital gains taxes on the appreciation, you may also claim a charitable deduction for the full fair market value of the security on the date of the gift.
Planned Giving
You might be surprised to learn that you don't have to be wealthy to leave a permanent, meaningful legacy. Learn more about how you can be remembered for more than just the assets you have accumulated and to impact lives for the sake of the gospel.
Donate by Mail
Please send your checks to:
Beeson Divinity School
Att: Gary Fenton
800 Lakeshore Drive
Birmingham, AL 35229
United States