Published on October 17, 2018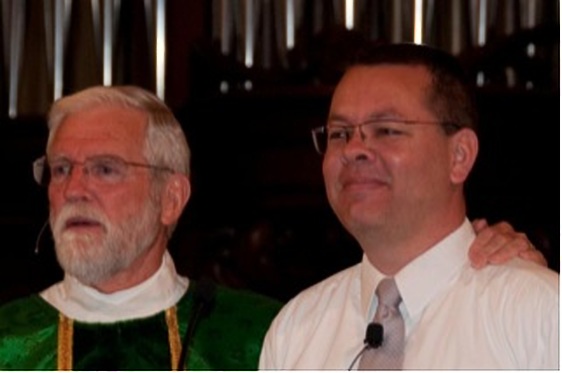 Retired Beeson Divinity School professor Lyle Dorsett and his wife Mary discuss their relationship with Andrew and Norine Brunson.
Details concerning Andrew Brunson's arrest and imprisonment in Turkey
How do you know Andrew and Norine Brunson?
We met Andrew and Norine when they were students at Wheaton College. Andrew and Lyle grew especially close during those years. Andrew graduated in 1988 and Norine [Steiner] in 1989. Their second date was at a "cookie push" at our house. Andrew was a member of Lyle's weekly discipleship group and a weekly guest for dinner at our home. He and his friend, Kent, who also has ministered in Turkey with the Brunsons, were Tuesday night dinner guests before the discipleship meeting. Norine lived with us for part of the summer before their wedding in August of 1989.
Andrew grew up as a missionary kid in Mexico and Norine grew up in Monaco where her Hungarian father was a part of Trans World Radio.  He was a strong Christian and taught the Bible via the radio. Her American mother was also a strong Christian. 
I believe that Andrew preached four times at Christ the King Anglican Church [a church planted by the Dorsetts in 2007 that worships in Hodges Chapel at Beeson Divinity School] in 2009, 2012, 2013 and 2016. His stories of how the Holy Spirit was working in Turkey were mesmerizing and very encouraging to our congregation. The first time he preached at Christ the King, he started by saying something like "Birmingham is a city of about one million people, right?" The congregation agreed, and he went on to say that if Birmingham was in Turkey, there would be about 4 Christians. Because of that, they could not wait for local Christians to find them. They advertised and did everything they could to alert Christians in Izmir that they were living and ministering in the city.  
Describe what Andrew's time in prison was like. How did he keep faith in God during this time?
During his time in prison, Andrew survived by reading Scripture, singing praises to the Lord and reading the books, many of which were Christian biographies.  Some of us were able to get books to Norine and she would then act like a librarian for Andrew and would swap four books at a time in and out of prison so that he would have something to read that would help give him hope and encouragement. This was important because the prison had no air conditioning and was extremely hot in the summer and cold in the winter. Thus Andrew lived in very difficult and disagreeable circumstances but the hardest part was his yearning for a touch from the Lord. He frequently felt alone and forgotten.  During the first year, he lost fifty pounds. He has since regained some of that back. 
During 2017 when his heart was so very heavy, Andrew composed a hymn of praise that he would sing over and over during the day to the Lord as he sought a sense of God's comforting presence:
You are worthy, worthy of my all
My tears and pain I lift up as an offering
Teach me to share in the fellowship of your suffering
Lamb of God you are worthy of my all.
You are worthy, worthy of my all
Adopted as a son, a brother to my King
Indeed I will share in your glory if I share your suffering 
Jesus, you are worthy of my all.
You are worthy, worthy of my all
But my heart faints, drowned in sorrow, overwhelmed
Make me like you, Cross-bearer, persevering, faithful to the end
To stand the trial and receive the crown of life.
You are worthy, worthy of my all
This is my declaration in the darkest hour
Jesus, the Faithful One who loves me, always good and true
You made me yours, you are worthy of my all.
I want to be found worthy to stand before you on that day
With no regrets from cowardice, things left undone 
To hear you say "Well done, my faithful friend, now enter your reward"
Jesus, my Joy, you are the prize I'm running for.
You are worthy, worthy of my all
You are worthy, worthy of my all
What can I give to the Son of God, who gave himself for me
Here I am, you are worthy of my all.
[Later he added these verses]
It will be worth it all someday
It will be worth it all 
To see you face to face
To look into your eyes ablaze with love for me
To run into your embrace
I want to see your face, to gaze into your eyes
Ablaze with love for me, run into your embrace.
No more tears, no more pain, no more loneliness, fears, no suffering
In your embrace, safely home, forever safe in your embrace
It will be worth it all
You are worth it all
You are worthy of my all.
What do you think Andrew and Norine would want people to know, especially those who have prayed for him?
Andrew and Norine both testify that the prayers of the faithful around the world sustained, comforted and encouraged them to remain steadfast. Although their days were often long and sometimes seemed hopeless, they never lacked for anything nor were ever left without emotional, spiritual and financial support from Christian brothers and sisters. The American government under President Trump and Vice President Pence worked tirelessly to have Andrew released. The Brunsons are grateful to the Lord for bringing them back to the family and freedom. They thank everyone who helped bring about this day and they are now praying and seeking the Lord's guidance for their future.
Did you correspond with him and Norine while Andrew was imprisoned? If so, what was your communication like?
At first, while Andrew was imprisoned, our only means of communication was through Norine via email. Later on, we were allowed to write a letter to Andrew which she would print and give to American consul who were able to visit Andrew on a regular basis and they were allowed to bring letters into the room and allow Andrew to read them but he was not allowed to keep them. When Norine visited Andrew each week, she was not allowed to bring anything into the room, even a Kleenex. Most visits were held in a room with two windows separated by bars and the Brunsons had to use a phone to talk with each other. For many months, they were required to speak in Turkish and knew that their conversations were being recorded. Later they were allowed to speak in English. Six times a year they met face to face in an "open" visit.
What will his family do now?
For the moment, they will spend their private time with family and close friends while processing all that has happened and healing from all the trauma.
We are so very, very grateful that they are finally on a path of healing and then sharing all that they have learned so that they might strengthen the church worldwide. They both believe that the Lord will use this trial to build His church in Turkey and everywhere. They both feel honored and privileged to have suffered for the Lord, even though they would both say that it was never easy.