Published on November 5, 2018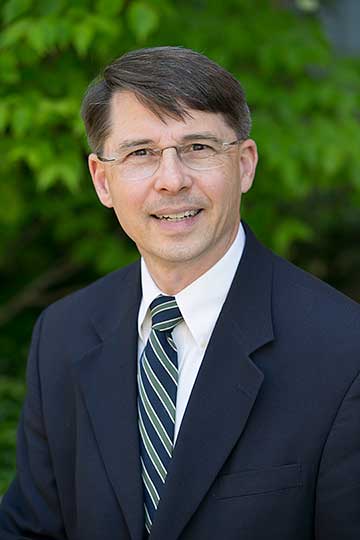 Kristen Padilla interviews Dr. Frank Thielman about his new Romans commentary, his time at Beeson and his current writing projects.
You recently finished a commentary on Romans. Why Romans? What is the significance of Romans for the church?
A number of years ago, I was asked to contribute the volume on Romans to the Zondervan Exegetical Commentary on the New Testament.  By that time I had studied and written on Romans in graduate school and had written chapter length treatments of various aspects of Romans in several books, but I hesitated to write a commentary on the letter.  With some coaxing from a good friend who had himself written a commentary on the letter, however, I decided to do it, and I am so glad that I did. The experience of studying the Greek text of Romans at close range for the past seven years or so has been one of the most spiritually enriching experiences of my life. It is simply a wonderful text, filled with the message of God's love for his people in Christ and replete with wisdom about how to live in the way that God created human beings to live.  One of the most prominent principles in Romans about Christian living is that it must be, in Bonhoeffer's words gemeinsame Leben—"life together." Humanity is bound together by its creation in God's image, its rebellion against God and God's free offer of salvation through faith in Jesus Christ. This means that the walls sinful human beings put up between their various social groups have no place in God's new community, the church. Romans is so important for the church because it explains the good news of salvation in Jesus Christ so clearly. It is also important because it shows the implications of this message for the way Christians should live in loving community with one another and winsome outreach to unbelievers.
Do you consider this commentary one of your greatest academic achievements thus far? If so, why?
I do not think of myself as having ever achieved anything great academically.  I want very much to teach the Scriptures faithfully for as long as the Lord gives me energy and opportunity, but I am sure that I have sometimes (perhaps many times!) failed to teach them well.  If the Lord judges this commentary to be a faithful interpretation of Romans and useful to the church, I would be so thankful, but I suspect I won't know that until I stand before the Lord on the final day (Rom 14:10–12). I am so thankful that on that day, the judge who examines me will also be the God who "demonstrates his love for us because while we were still sinners Christ died for us" (Rom 5:8).
What is unique about the commentary series to which you've contributed your commentary on Romans?
The design of this commentary series is actually well-suited for Beeson students and graduates. It assumes that those reading it have some knowledge of Greek, and that it will be most useful to those who have had two years of Greek. Still, it is very user-friendly for the busy pastor, teacher, or lay person who just wants to know more about a particular biblical book. The Greek (which appears in parentheses) is always translated and discussion of difficult language issues is straightforward and clear. Text critical issues occasionally receive attention, but are confined mainly to the footnotes. At the beginning of each set of comments on a particular verse or phrase, the detailed discussion is summarized in one or two crisp, clear sentences. A structural diagram in English accompanies each passage to make following the argument of the text easy, and discussion of each passage ends with practical, theological reflection on what the passage implies for Christian faith and life. Other commentary series do some of these things, but this is the only series I know of that does all this.
There are already several commentaries on Romans. What makes this one different or unique? What contribution do you hope you've made to the scholarship on Romans?
There is a wealth of really good commentaries on Romans, and anyone who wants to study the book should use more than one commentary. I have tried hard in my commentary to make the original, first century context of the letter come alive for readers. I also put a lot of effort into the sections of the commentary devoted to theological reflection. I am hopeful, then, that my commentary will be particularly helpful to readers of Romans who want to imagine how the first recipients of the letter would have understood it. Perhaps it will also be helpful in pointing the way to the right application of the letter for the church in our own time. 
I believe you are the only Samford and Beeson faculty member to have ever been asked to be a part of Studiorum Novi Testamenti Societas (SNTS). What is this society and why is it a privilege to be a part of it? 
The SNTS was founded in Birmingham, England in 1938 as a group of mainly British New Testament scholars who were interested in each other's work and wanted to work in connection and mutual support on projects rather than duplicating efforts. Its development was interrupted by World War II, but, afterward, it became a group in which British and continental scholars could learn from each other. It has remained fairly small, usually meets one of the European universities, and provides an opportunity to discuss scholarly ideas in an organized way with other scholars. The Society publishes a journal, New Testament Studies and a scholarly monograph series, both with Cambridge University Press. I have always found the annual meetings of the Society that I have been able to attend intellectually stimulating and a valuable opportunity to meet and hear from scholars from other parts of the world.
What future projects are on the horizon?
I am presently working on a book on Paul's life and letters that will probably take up most of my research and writing time over the next five years or so. Somewhere along the way, I hope to write a much shorter biblical theology of the new creation.
How long have you been at Beeson? 
I have been at Beeson since May of 1989, and it was my second teaching assignment after I finished graduate school in Durham, N.C. I had taught undergraduate students at a small, liberal arts college in east Tennessee for about two years when I heard about Beeson's founding. Dean George's vision for an interdenominational, evangelical divinity school on a major university campus caught my attention immediately, and after a couple of meetings with Dean George and visiting the campus, Abby and I felt the Lord was leading us to Beeson.
How have you seen Beeson remain the same in its convictions but have changed or grown over the years?
What I admire most about Beeson is that it has remained absolutely faithful to Christian orthodoxy, but has done so in a winsome way that fosters unity with Christians from many different traditions. Beeson has done a wonderful job over its thirty-one years of focusing on the total truthfulness of Scripture and the main tenets of the Christian faith, spelled out in the great historic confessions of the church. At the same time, Beeson has supported a number of different denominations by helping equip their pastors and other leaders for the challenges of Christian ministry. Over the years, Beeson has grown more denominationally and ethnically diverse. It has added special programs and expanded its facilities. But Beeson has always taken very seriously its responsibility to ground what it teaches and models for its students in the Scriptures and to "guard the good deposit" of the historic Christian faith entrusted to it.
If you could sum up your ministry and academic achievements, what would you say?
I hope to have faithfully and honestly taught the Scriptures over the past thirty-three years (nearly thirty of them at Beeson), which is what I believe the Lord called me to do many years ago when I was a college student. I hope that I have not viewed this as an end in itself, but only as a means to helping others see and experience the great love of God in Christ and to learn what it means to flourish as human beings in light of that truth. I want to work as hard as I can at this task, but I do not ever want to put my confidence for it in my own abilities. Only the Lord can change the lives of those who hear his Word.  I only want to be a footman who opens the door of God's Kingdom to people through teaching his Word. It does not matter at all to me if anyone ever remembers who I am or what I have accomplished. I just want people to come to know Jesus, or if they already know him, to know him better. If God could somehow use anything I have taught or written to help that happen, that would make me very happy.
Purchase a copy of Dr. Thielman's commentary on Romans
An abbreviated version of this interview appeared in the Fall 2018 edition of Seasons.