Published on July 24, 2019 by Dylan Evans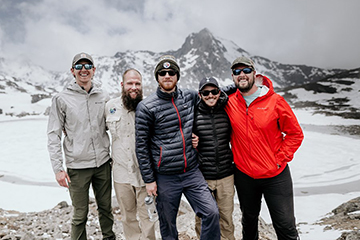 This summer, through Beeson's required Cross-Cultural Ministry Practicum, I had the once-in-a-lifetime opportunity to serve in Christian ministry with various Himalayan people groups. The goal of our trip was twofold: During the first week, we participated in theological training for local Christians and conducted a few Bible-based programs for daycare centers and primary schools. We were also able to tour several religious sites and learn about the beliefs and practices of native Buddhists and Hindus. This firsthand experience of witnessing the worship of other faith communities, in another language and all within a culture entirely different from my own, was an eye-opening opportunity that I would seldom have the ability to experience stateside. Yet as a Christian, what was even more rewarding than this was hearing the numerous testimonies of the one true God's work in bringing the nations to a saving knowledge of himself.
The second week consisted of a seven-day trek into the Himalayan Mountains. Aside from spending a week in the shadows of the world's highest peaks—this was not for the faint of heart!—our trek led us to the remote villages, and into the living rooms, of native Christian pastors and missionaries. On several occasions, often over a warm plate of Dal Bhat (a Nepali favorite), we heard testimonies from local believers of conversion, persecution and God's provision for his church in Nepal. Our time in the mountains even led to two individuals, who had never known of the gospel of Jesus Christ, to hear the world's greatest news from our trekking guide in their mother tongue. Witnessing these conversations alone was worth all of the preparation, money and challenging hiking that this trip required.
As for my own personal growth on my CCMP to Nepal, there are a couple of lessons that come to mind.
The Lord used this experience to humble my team and me in more ways than we could have imagined. First, there was culture shock. Never before had I been so culturally uncomfortable at every turn. "What hath Birmingham to do with Kathmandu?" Not much at all, I quickly discovered.
I was also continuously humbled by my growing awareness that Jesus is building his church around the world—with or without my help, or even my knowledge. It wasn't until weeks before our departure that I learned that, in 1950, there were no known Christians living in Nepal. Currently, with approximately 400,000 Christ-followers, several reputable sources dub the Christian population in Nepal one of the fastest growing in the world.
Probably the most significant personal takeaway from my CCMP to Nepal was the exposure of my own tendency to prioritize productivity and efficiency at all costs. The Nepalis live at a totally different speed from Westerners. Whereas we often place a premium on output—on tangible vocational success—the people of Nepal showed me what it means to practice on-the-spot hospitality and to sacrifice time and resources for the good of others. Theirs is not a culture dominated by the constant anxiety of professional advancement or the fear of missing out on who just said what on social media.
This naturally forced me to ask myself: Could I possibly prioritize relationships, hospitality, and spontaneous generosity and still successfully navigate within my own culture? Is it possible for me to live my life at a slower, less anxious pace? These are the questions—the convictions, rather—I have been brooding over since I returned from Nepal, and I thank the Lord, and Beeson Divinity School's emphasis on cross-cultural ministry, for them.