Published on December 11, 2019 by Christy Harper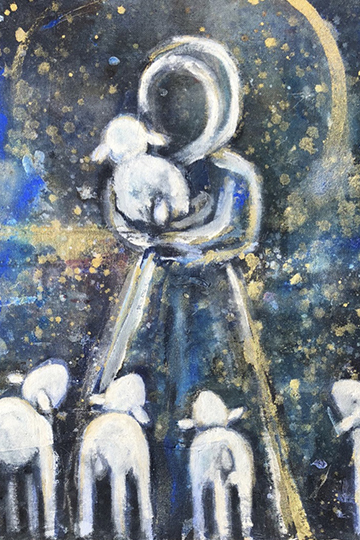 In Micah 5:2-5a, the Jewish prophet Micah spoke about a theme we often use during Advent and Christmas, but perhaps with a much different purpose in mind than how we often think of it today: peace. One day, he wrote, his people would no longer suffer oppression in the midst of a sinful, broken world. Instead, they would be delivered by a Shepherd-Ruler from tiny Bethlehem, a ruler who could wage war and defeat anyone who stood against him and embody peace for his people. 
Perhaps Micah had the familiar words of Psalm 23 in his mind, as centuries earlier King David composed one of our most familiar and beloved lines of poetry in the whole Bible: "The LORD is my shepherd, I shall not want." A shepherd is a powerful, paradoxical figure. On the one hand, a shepherd is the defender, comforter, and rescuer of his sheep. On the other, he is the warrior and enemy to any creature that would threaten his flock's safety and well-being.
Jesus' birth in Bethlehem gave new life to Micah's prophecy as he entered our world as the Shepherd-Ruler who would be the peace of his people. He offers this peace not as a military or political leader who intimidated his enemies with armies, technology, or money; he is the Good Shepherd who laid down his life for his sheep (John 10:11) and whose resurrection guarantees an ultimate victory for his people. He offers peace that does not ignore the evil and brokenness in our world and within our own souls, but instead overcomes it by his blood and through the comfort of his Holy Spirit. 
Each Advent, one of the most cherished songs that we sing in my church community is "I Heard the Bells on Christmas Day," penned by Henry Wadsworth Longfellow. Longfellow experienced great suffering throughout his life, including the loss of a child, the tragic death of his wife, and the near-death of another son. With these losses taking their toll on his soul, depression was also a constant companion. One Christmas morning, while being revisited by grief, he wrote this poem, with the last stanzas declaring his resolve to trust in the peace brought by Christ, our Shepherd-Ruler: 
And in despair I bowed my head;
"There is no peace on earth," I said;
"For hate is strong,
And mocks the song
Of peace on earth, good-will to men!"

Then pealed the bells more loud and deep:
"God is not dead; nor doth he sleep!
The Wrong shall fail
The Right prevail,
With peace on earth, good-will to men!"
Gina Hurry is an artist in Birmingham, Ala. Purchase prints of her piece, "Held."