Published on September 20, 2019 by Paul House  
Location: From the village church in Tychowo on Highway 209, proceed southeast on 209. Highway 209 bends as you leave Tychowo. From the bend drive 2.1 kilometers, slowing as you go. On this 2.1 km stretch we saw a sign on the left noting it is 61 km to Bytow, crossed a small creek, and saw a harvested forest on the right. Immediately beyond that point there is a left turn into a grassy wooded area. Following the tree line left, we found a sign describing the seminary and a small stone marker a group led by Jane Pesja placed there in 1999.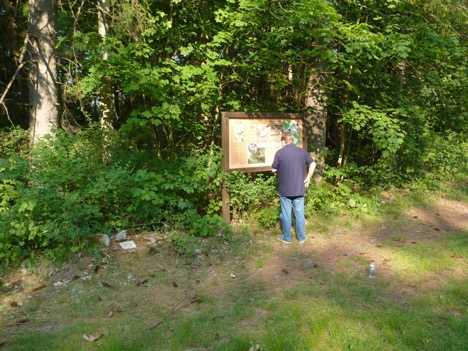 Sigurdshof was the final site the Pomeranian Confessing Church secured for its ordinands. We visited it twice, both times in suffocating heat accompanied by sizable horseflies. As you can tell from the location description above, we would not likely have found it without local help. I hope this description will make it easier for others. If similar directions are on the internet, I have not found them. I used descriptions from Jane Pesja's Mission to Pomerania: Where Bonhoeffer Met the Holocaust and Bethge's Bonhoeffer biography to get this close. 
This was truly a seminary at the geographical, religious and cultural margins of German life. In April 1939, Confessing Church leaders needed a new place to partner with the Koslin work. Erwin Schutz was getting married and needed the Gross Schlonwitz vicarage to start his family. The von Kleist family, led by their matriarch, Ruth, came to their aid. Ruth was a firm supporter. She was a charter member of the Finkenwalde congregation, an enthusiastic reader of Bonhoeffer's books and a hostess to many hurting pastors and their spouses. Her son Ewald ran the family estate near Tychowo, a few kilometers from Gross Schlonwitz. His brother Sigurd had a house in the woods about 3 kilometers from the village and 2 kilometers from the manor, and the family made the place available to the seminary.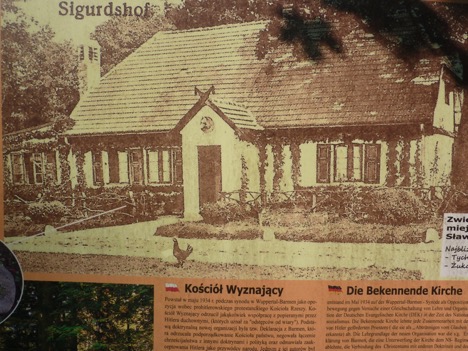 Sigurdshof was a pretty two-story house. Smaller than the Gross Schlonwitz vicarage, vines covered much of the front, two large trees guarded the front right side and the woods surrounded the back of the property. A stone wolf's head looked down above the front door. The house's chief flaws were that it lacked running water and was difficult to heat, hardly unusual traits in rural homes of that era. There were benefits. Bethge recalled going from Sigurdshof to the manor to play tennis, to boat and to swim during the summer session in 1939. The winter of 1939-40 was harsh, but the seminary community adapted. 
Like millions of others, the lives of those in the Bonhoeffer seminary story were irrevocably altered on September 1, 1939, when Germany and the Soviet Union invaded Poland. Fritz Onnasch led one last term in Koslin from late April until August 25th. The start of the war and his father's imprisonment (see previous post) stopped the seminary work there. Though 33 years-of-age, Bonhoeffer received a draft notice requiring him to report in late May. Instead of complying, he gained a one-year leave of absence to study in the United States. In his absence, Bethge and Helmut Traub led the Sigurdshof seminarians during the summer term. As is well known, Bonhoeffer came back nine months early, just in time to attend the closing retreat in August. The von Kleist family's connection with the local draft board officer helped Bonhoeffer stay out of the military for the remainder of the year of his leave of absence. Bonhoeffer volunteered to become a military chaplain in early 1940 but was turned down. 
During the last term, Bonhoeffer and Bethge again had 7-8 students. Photos show a group comfortable with one another, chatting in the yard before posing for a portrait. Life together continued. Bonhoeffer wrote and taught on Psalm 119, among other things. He was coming to appreciate the quiet and beauty of rural places. He and Bethge stayed faithful to renewing the church through communal theological education.
As she had since Finkenwalde days, Erna Struwe served as housekeeper. She was present when the Gestapo closed Finkenwalde in 1937. She was also at Sigurdshof on March 18, 1940, when they closed Bonhoeffer's last seminary site. She stayed faithful to her calling.
God often renews his work through faithful people from the margins. Amos of Tekoa, Jeremiah of Anathoth, Peter of Capernaum and Jesus of Nazareth come to mind. So do Francis of Assisi and Teresa of Albania. We can add Bonhoeffer, Bethge, Struwe and the others from Sigurdshof. As Scott observed as we drove from Sigurdshof, "Now I realize what a fringe movement the Confessing Church was." We do well to emulate these faithful fringe people. Though imperfect, they stood by the truth in an isolated wooded place, now barely marked, still making its mark, still memorable, still renewable.