Published on July 19, 2019 by Russell Mann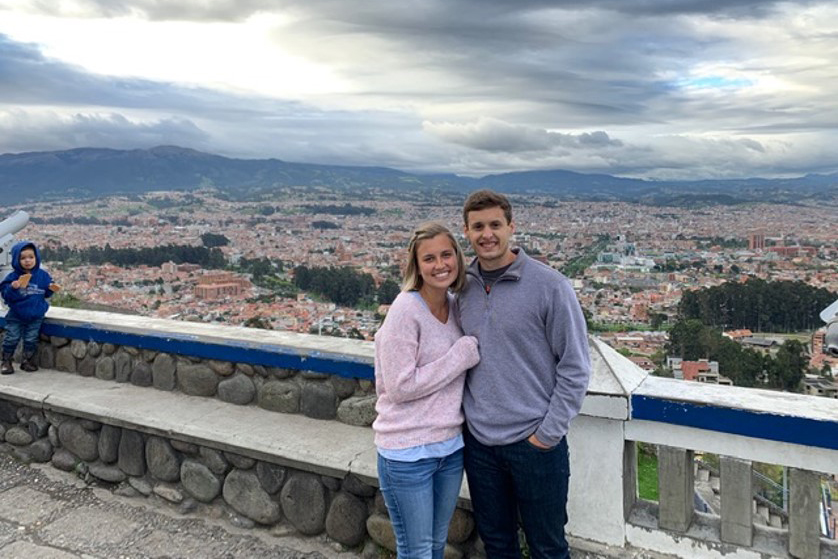 Hola from Cuenca, Ecuador! This summer, my wife and I are spending six weeks as interns with Reaching and Teaching. This organization aims to provide theological training to church leaders in places where they have no access to it. God has given us a heart for missions and for Latin American culture, so we traveled to the beautiful city of Cuenca to learn from four wonderful missionary families there.
Ecuador is a diverse country in every way. Geographically, it has mountains, volcanoes, beaches and jungles. Ethnically, it used to possess more distinct people groups per square mile than any other country in the world. Religiously, it contains a fascinating blend of traditional animism, nominal Catholicism and rising secularism. This combination has created a country in great need of well-trained indigenous pastors who can speak the truth of the gospel to their diverse culture.
Throughout our trip, the missionary families have done a great job of allowing us both to learn from them and contribute to their ministry. Since their primary ministry is theological education, they spend much of their time traveling across the country training indigenous pastors and have recently started a seminary in Cuenca. Christina and I spent our first week getting to know the country by visiting malls and markets, walking around college campuses, attending language school and traveling to some cultural landmarks (including cathedrals, volcanoes and Incan ruins). We also spent some downtime with each of the missionary families to help us understand the flow of daily life in a foreign context. As we have gotten to know the culture better, we have been given many opportunities to minister to the believers here. We have participated in Bible studies with the college students of the local church, shared the gospel at parks and helped with the training of church leaders in six different cities. Along the way, I have taught church leaders and college students on a variety of topics such as the books of Esther and 1 Peter, church history, dating, marriage and discipleship. I even had the privilege of preaching at a baptism service, encouraging the new believers to rejoice continually in their salvation, grow in holiness and share their faith.
Our time in Ecuador has challenged, encouraged and equipped us in many ways. The example of the local Christians has challenged us to be hungry for the Word of God, as many of them travel hours for one class. It has challenged us to trust God's provision during persecution, as many pastors were the first in their communities to become Christians and were physically assaulted for it. And it has challenged us to evangelize frequently and with faith. The missionaries have encouraged us with their example of endurance and patience in cross-cultural ministry. They have taught us that living and ministering in a foreign context is full of logistical, physical and spiritual difficulties that can only be endured by holding fast to Christ. This trip has even equipped us for ministry back in Birmingham! We live in a 40% Hispanic community and serve at a Hispanic church, and Christina is a high school Spanish and ESL teacher to students from all over Latin America. Our time in Ecuador has helped us grow in our understanding of how best to minister to our community and share the gospel with them. Overall, the highlight of our trip has been getting to spend time with faithful believers who, although they live in a much different context from ours, love the same gospel that we love and are on the same mission as we are—to see God's name glorified throughout the entire world!