Published on November 26, 2019 by Michael Pasquarello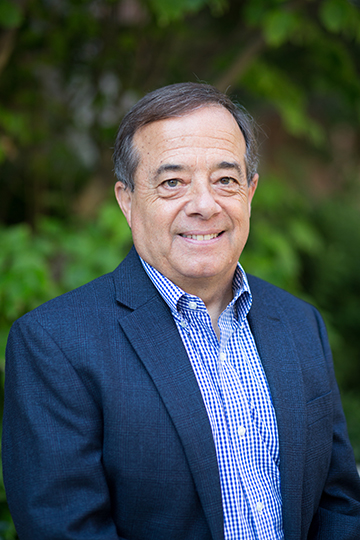 On December 2, the Robert Smith Jr. Preaching Institute will host a day with Dr. Mark Gignilliat, Professor of Divinity, Beeson Divinity School, who will speak on "Advent and the Psalms of Ascent." We look forward to a time of informative and inspiring conversation around the Word of God as we prepare for remembering the Advent of our Lord.
Psalm 127 is one of a collection of psalms (120-134) that bear the heading, "A Song of Ascent." This particular Song provides us preachers with a splendid opportunity to reflect on the pilgrimage of God's people across time and to proclaim a message of God's faithful provision. The Psalm is sung by people who are on the way toward giving thanks to God, as many Eucharistic liturgies proclaim, "It is always right and good to give God thanks and praise."
Psalm 127 can assist us in challenging a widely held view that Christian preaching, as well as Christian living, is essentially problem-centered rather than praise-centered. David Ford and Daniel Hardy address this theological and practical matter in a particularly insightful way.
It is of the greatest importance to the whole of Christian communication that it be praise-centered. This is in contrast with the problem-centered approach that has often been dominant …. The essence of mission and evangelism is in the intrinsic worth, beauty, and love of God, and the joy of knowing and trusting him …. Problem-solving lacks the logic of overflow, and easily lets the problem be the center of attention, whereas praise puts what is wrong in a wider perspective from the start.[1]
Moreover, the placing of this Psalm within the pilgrimage God's people has been summoned to live, the story of the world's salvation, provides additional incentive for proclamation that affirms the primacy and reality of who God is and what God is doing.  Such God-centered proclamation, which, in itself, is an act of praise, may be articulated with confidence made possible by what is confessed by the Psalmist. 
First, God builds the house; second, God watches over the city; third, God provides while God's people sleep. The Psalm effects what it claims by situating its singers in ordinary life, recalling the goodness of God's providential activity while acknowledging the primary place of God's working; that it is God who ultimately builds, protects and provides in, under, and through all our human works and efforts.
This will indeed sound as good news to congregations whose life is gripped by anxiety and fear, convinced their existence and future are, ultimately, in their own hands; that their work is all up to them; that God has abandoned them to their own devices. No matter what the particular task or problem may be, evangelism, ministering to the poor, rendering faithful witness in the neighborhood, or challenging the assumptions of culture or the claims of the nation-state, such despair fuels conviction that we have been left on our own, and that strength from God will be given only at the end of the journey–that is, if we endure.
It is at this point that praise-centered proclamation can announce good news for weary people whose existence is not without uncertainty, whose identity is not without question, and whose resources are not without limit. And while we may grant that God has had the primary role in creating the world, it seems more difficult to grant God similar primacy for the completion of creation. And while the pilgrimage to which both Israel and the Church have been called aims toward ever-increasing praise of God, such doxological existence is often challenged by the ordinary realities of life.
Our preaching is able to call the Church to entrust itself and its future anew to the One who creates, preserves and provides. In keeping with this God-centered focus, preaching may also provide opportunities for encouraging discouraged disciples; for depicting those qualities of spiritual maturity that characterize living faith which discerns God's ordinary and often seemingly unspectacular provision. As the Church begins the Christian Year, it will need fresh reminders of the God who is the source and end of its life. 
Our preaching might be to emphasize that a God-given heritage is the fruit of divine providence. The second half of Psalm 127 affirms this truth; that it is God who gives offspring, engendering new life that makes a family strong and secure. Those who have many will be happy and confident in times of trouble. As was the case in the first half of the Psalm—God's blessings include a place for dwelling in God's presence, safety from enemies and provision even during times of rest—so, too, are children a blessing and sign of God's providential care.
Here is a wonderful opportunity for gospel proclamation; that the life and legacy of God's people is primarily the fruit of God's gracious activity. All our worship, work and witness, our service, ministry and mission efforts are in vain unless God is not always and already at work. The great surprise of this Psalm, for congregations that are flourishing and congregations that are fading, is its attentiveness in praising God, in remembering God's goodness, in acknowledging God's faithful activity. Some may hear this as a word of judgment; others may hear a word of mercy. Both are necessary if the Church is to remain true to the way that leads to its final destiny with God.
For Israel, it was God who built the Temple, God who established the city of Jerusalem and God who blessed the lineage of David. While considerable human work was required for all of this, Israel was always dependent on God's prior working. So we, too, might say, "Unless the Lord builds the church, they labor in vain who build it." Such gospel proclamation directs attention to God, not as a way of escaping the problems and challenges of being God's people in the world, but for establishing the praise of God as the beginning and end of who we are and what we are to do until the final Advent of our Lord.
[1] David F. Ford and Daniel W. Hardy, Living in Praise: Worshipping and Knowing God (Grand Rapids: Baker Academic, rev. 2005) 188-89.