Published on May 29, 2019 by Evan Musgraves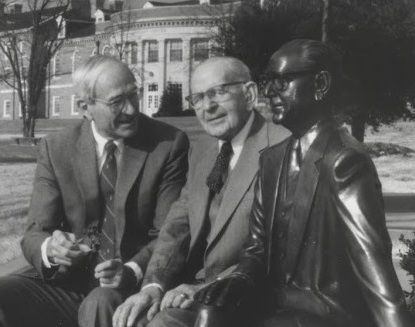 For the first six months of its existence, Beeson Divinity School was known simply as Samford Divinity School. For its worship, this young community of faculty, staff and students met in Reid Chapel, just across the campus of Samford University from the present-day Hodges Chapel. The two names that are now so familiar to this school, Beeson and Hodges, came later as a grateful community sought to honor Ralph Waldo Beeson (1900-1990) and Andrew Gerow Hodges (1918-2005) for their generosity and vision.
Beeson was born in 1900, his life spanning most of the 20th century. After graduating from Emory University in 1920, Beeson entered the insurance business with Liberty National Life Insurance Company. It would be his affiliation with Liberty that would draw Beeson to Birmingham and to Samford. In World War II, Beeson served in the U.S. Naval Reserve.
By the late 1980s, Beeson had already given a significant amount of money to Samford to help fund the building of a university center and the ongoing support of Orlean Beeson School of Education, named for Beeson's wife. Then-president of Samford, Thomas E. Corts, met with Beeson with a "wish list" of 15-20 items that Corts believed would be good investments for Beeson to make in Samford. According to Timothy George, Beeson's founding dean, "near the bottom, if not the very bottom was the idea of starting a divinity school." This idea, at the bottom of a wish list, caught Beeson's eye.
At the time, establishing a divinity school seemed like an improbable task to undertake. No divinity schools existed on the campuses of Southern Baptist colleges and universities. Another complicating factor was the raging battle within the Southern Baptist Convention between theological moderates and conservatives, with the fighting reaching its highest intensity in Baptist institutions of higher education. In George's words, Beeson Divinity School was "an experiment," a "leap of faith."
Beeson's gift to Beeson Divinity School went beyond providing the funds. He helped give the guiding vision, too. Beeson's desire was to help establish a theological school with three characteristics. The school was to be interdenominational yet evangelical, small and affordable, and focused on taking the gospel to the ends of the earth. As Beeson described it, the "emphasis should be upon the pastoral ministry, with special attention to preaching and the practical aspects of the pastorate . . . I hope they stick to orthodox teaching at all times, and it wouldn't hurt to bring a little extra teaching of evangelism."
The interdenominational character of the divinity school was a reflection of Beeson's own Christian journey. He grew up as a Methodist, the son of a revival preacher and college president named John Wesley Beeson. The elder Beeson served as the president of Meridian College, a Methodist college in Meridian, Mississippi. Beeson would often say that whatever Christianity he had came from his father. The younger Beeson married a Baptist woman named Orlean when he was 40 years old. At the time of his gift to Samford, the Beesons were faithful members of Independent Presbyterian Church in Birmingham, Alabama. Beeson told Corts, "You Baptists do a lot of good, but you can learn from others. And you ought to share with others what you already know."
Beeson hesitated to have Samford Divinity School renamed after him. He agreed to the name Beeson Divinity School on one condition: that it also be named for his father, John Wesley. Beeson thought his father was more worthy of having a theological school named after him. George described Beeson's reluctance to attach his name to this school:
"His initial endowment of our divinity school was anonymous. Only with great difficulty did we persuade him to allow us to name it Beeson School of Divinity, and then only with the understanding that it would honor his father, John Wesley Beeson, and his vision for ministerial education."
Thus, Samford Divinity School became Beeson Divinity School.
How did Beeson, the Methodist-turned-Presbyterian Mississippi native get connected to this Baptist university in Alabama? The answer is Andrew Gerow Hodges. The centerpiece of Beeson's physical campus and spiritual life, Hodges Chapel, honors the legacy of this faithful Christian.
Born in 1918 in Geneva, Alabama, Hodges attended Howard College (now Samford University) where he majored in business and played football. Like Beeson, Hodges served his country in World War II.
While playing football at Howard, Hodges suffered an injury that prevented him from serving in the Armed Forces during World War II. Determined to help the war effort in some way, Hodges joined the American Red Cross and supported the 94th Infantry Division in France. While serving there as a field director, Hodges helped provide care for prisoners of war and eventually negotiated the release of 169 prisoners of war. This act earned him the highest military honor for civilians, the Bronze Star.
After World War II, Hodges returned to Birmingham to work with the Liberty National Insurance Company, where he began a friendship with Beeson. Hodges worked his way up in the company, eventually becoming the executive vice president. During his career, Hodges also served as the chair of the Samford Board of Trustees beginning in 1962. His involvement at Liberty and on Samford's board attracted the notice of his friend.
When the time came to name the chapel of Beeson Divinity School, Corts and George initially contemplated naming it after other members of the Beeson family. Ultimately, they decided to name this new place of worship after Andrew Gerow Hodges because "he was such a formative figure in the whole Beeson bequest." Hodges was the person who connected Corts, Samford University and Beeson. If not for the service of Hodges to the wider Samford community, Beeson Divinity School may have stayed at the bottom of a wish list—a dream waiting for someone with the vision and resources to make it a reality.
This article originally appeared in the 2019 edition of Beeson magazine. You can read past editions of Beeson.