Published on June 5, 2019 by John Woodbridge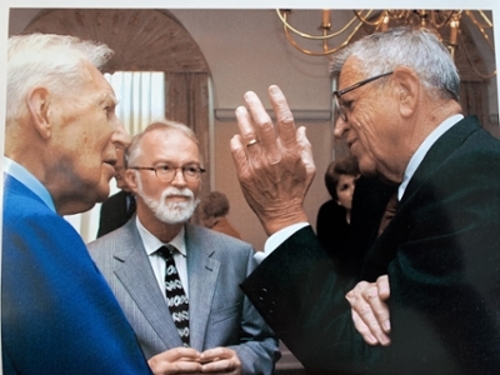 Evangelical Protestants and Roman Catholics constitute two of the largest religious communities in the United States. For this reason alone, taking stock of the 20-year-old history of a dialogue between evangelicals and Roman Catholics is a worthwhile enterprise. In some regards, it is surprising that Roman Catholics and evangelicals have engaged in a meaningful ecumenical dialogue, given their former wariness if not overt hostility toward each other.
The purpose of the present essay is to proffer personal reflections upon the influential role Timothy George has played in Evangelicals and Catholics Together (ECT) over the last two decades. George, a brilliant essayist, church historian and theologian, has been one of the principal evangelical participants in ECT. It is quite difficult to imagine the existence of the ECT enterprise without his significant irenic involvement.
The first meeting I attended of ECT took place in the fall of 1996 at the famous Union Club in New York City. Representing the evangelical side were Chuck Colson, J. I. Packer, Tom Oden, Timothy George and others. Representing the Roman Catholic side were Father John Richard Neuhaus, Father Avery Dulles—soon-to-be Cardinal Avery Dulles—Father Francis Martin, George Wiegel and others. In the year 2016, Timothy and I were the only remaining evangelical ECT veterans of the fall 1996 meeting.
During the 1996 meetings, Chuck Colson invited the two of us out for a breakfast chat in a local bustling New York City restaurant. Both Timothy and I thought the world of Chuck. We greatly admired his big-hearted concern for down-and-outers and up-and-outers ("the least, the last and the lost"), his defense of religious liberties for people of all faiths, his espousal of social justiceand advocacy of the sanctity of life (for the elderly, the infirm and the unborn child).
Seated across the table from us at the restaurant, Chuck reflected upon the ins and outs of the ECT meeting in which we were presently engaged. And then he said, "I need your help. I would like to invite you two to become my theological advisors in ECT." Quite surprised by this generous offer, both Timothy and I nonetheless replied almost in unison: "Chuck, you can do better than us in finding some people who would be more accommodating in ecumenical discussions. We are convinced evangelical Christians who will not compromise or accommodate our evangelical convictions." Chuck replied, "No, no, you are just the persons I need because you will not do this."
Sensing the deep earnestness of Chuck's request, neither Timothy nor I could refuse his offer. We both agreed to become his advisors. Chuck did not want "lowest common denominator statements" in which cosigners had sacrificed their theological beliefs to gain an ecumenical accord.
Timothy's role as a trusted advisor for Chuck expanded rapidly and dramatically. Timothy joined the Board of Prison Fellowship and served as a theological advisor. Timothy became the principal evangelical writer on various subcommittees, which drew up first drafts for ECT statements.
Early on, Timothy and I were seated in the spacious living room of Prison Fellowship in Reston, Virginia. I asked Timothy why he became involved in ECT. For starters, Timothy made it very clear he engaged in ECT as a convinced and faithful Southern Baptist. He was committed to gospel preaching and to the promotion of first-class Christian theological education, especially for pastors. He was committed to seeking the unity of the church in obedience to Jesus' prayer in John 17:21: "that they may all be one; even as thou, Father, art in me, and I in thee, that they also may be in us, so that the world may believe that thou hast sent me." What Timothy said to me privately on this occasion, he consistently reiterated in ECT meetings and in other public venues.
Like Chuck Colson and Father Neuhaus, Timothy recognized the need for a strong Christian public witness in an increasingly secular American society. For example, evangelicals should continue to work together with Roman Catholics in the prolife movement, defending the lives of unborn children. Timothy urged evangelicals and Roman Catholics to stand together regarding the defense of religious freedom and the defense of Christian marriage (defined as a marriage between one man and one woman).
It is one thing to sense the need for evangelicals and Roman Catholics to engage in meaningful ecumenical conversations; it is quite another to entertain any realistic hope that such conversations would be worthwhile. Had not the Roman Catholic Church issued harsh anathemas against Protestants at the Council of Trent (1545–1563)? Had not Protestants returned the favor and, on occasion, castigated the Pope as the Antichrist? As a leading expert on the Protestant Reformation, Timothy was well versed on touchstone doctrinal beliefs like sola Scriptura and sola fide that separated Protestants from Roman Catholics.
After the death of Chuck Colson in 2012, Timothy assumed the leadership of the evangelical contingent. Today Timothy is one of America's most respected church historians, theologians and Christian educators. The influence of his marvelous ministry for Christ is extensive indeed. Timothy's involvement in ECT and his endeavors with Chuck Colson are not the only theatres of his expansive ministry. But certainly, even by themselves, they constitute a very important chapter in the oft times inspiring story of American Evangelicalism.
John D. Woodbridge is the research professor of church history and the history of Christian thought at Trinity Evangelical Divinity School.
This essay is edited and adapted from Worship, Tradition, and Engagement: Essays in Honor of Timothy George (Wipf & Stock 2018) and is reprinted with permission by Wipf & Stock Publishing. Wipfandstock.com