Published on May 15, 2019 by Timothy George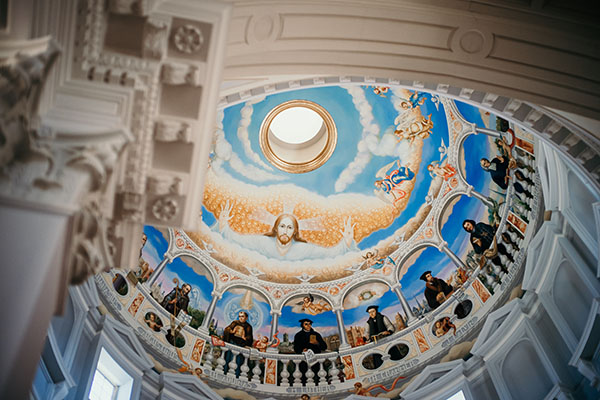 "For All the Saints" is the official hymn of Beeson Divinity School. It has been sung at every convocation and commencement since our school was founded in 1988. Many Beeson graduates tell me that they have signature memories of gathering for community worship in Hodges Chapel as the faculty processes in academic regalia and we all sing with gusto, "For All the Saints."
For all the saints who from their labors rest,
Who thee by faith before the world confessed.
Thy name, O Jesus, be forever blest,
Alleluia!
What makes this hymn so special? Well, first of all, it is a hymn, not a musical ditty casually sung in an unreflective manner. It conveys a sense of transcendence, a joyous, but serious coming into the awesome presence of the living God. Elisabeth Elliot, as a young missionary, was sustained in her darkest days by the singing of great hymns of the faith she had learned as a little girl. "For All the Saints" is that kind of hymn, one that sustains, fortifies and anchors the soul. For more than thirty years, now, "For All the Saints" has been a constant in the liturgical life of Beeson Divinity School.
Written by Anglican bishop William Walsham How in 1854, and set to glorious music by Ralph Vaughan Williams in 1906, "For All the Saints" is perhaps the greatest hymn of the Christian faith since Martin Luther's "A Mighty Fortress Is Our God." Meant to be sung as a processional hymn on All Saints Day, the original version had eleven stanzas. (On one occasion at Beeson, we tried to sing them all!) Like the design and iconography of Hodges Chapel itself, this hymn is based on Hebrews 11 and 12—including the well-known heroes of faith, as well as the "others" (11:36), the anonymous saints and martyrs whose faithfulness unto death make them a part of "the great cloud of witnesses" (12:1). If Bishop How and Ralph Vaughan Williams had been commissioned to write a special hymn just for Beeson Divinity School, they could not have come up with anything better.
"For All the Saints" reminds us of three great facts of faith.
We are not alone. In a world where many believe that this life is all there is, this hymn bears witness to the solidarity of the communion of saints, a truth we confess every time we recite the Apostles' Creed. We do not pray to the saints, nor do we ask them to intercede for us, but we do acknowledge our oneness with them in the bond of divine grace. This solidarity is secured by our communion with Jesus Christ—crucified, risen and coming again—and with all those, both the living and the dead, who are alive in Christ. Because of this, we continue to pray and work for the unity of the Body of Christ here and now, "your kingdom come here on earth as it is in heaven." This is the unity for which Jesus himself prayed to the heavenly Father: "May they all be one, as you, Father, are in me and I am in you. May they also be in us, so that the world may believe you sent me" (John 17:21).
We are not there yet. Karl Marx once wrote that "Religion is the opium of the people." There are versions of Christianity that come close to that, ones that offer a placid, gnostic soothing of the soul, with little understanding of the spiritual life as struggle with the "principalities and powers" Paul wrote about (Eph. 6:12). "For All the Saints" reminds us that we are not there yet. There are battles to be waged as we follow our "Captain in the well fought fight."
And when the strife is fierce, the warfare long,
Steals on the ear the distant triumph song,
And hearts are brave, again, and arms are strong.
Alleluia!
Martin Luther King Jr. was fond of quoting, "The arc of the moral universe is long, but it bends toward justice." Followers of the Lamb know that they cannot win the Lord's battles by fighting with the devil's weapons. They are "soldiers, faithful, true and bold," but they belong to the army that sheds no blood.
Lift up your hearts! Jesus once said to his disciples, "Straighten up and raise your heads, because your redemption is drawing near" (Luke 21:28). There is a compulsion, an eschatological force in every verse of "For All the Saints." Believers are called on to face the future, even at its most foreboding, with hope. We know that this world will not terminate on itself. We know that all our little churchly processions here below will one day be united with that magnificent procession above, as our voices are joined to the heavenly choir "singing to Father, Son, and Holy Ghost: Alleluia!"
Christina Rosetti, that wonderful poet of the nineteenth century, put it this way:
As grains of sand, as stars, as drops of dew,
Numbered and treasured by the Almighty Hand,
The Saints triumphant throng that holy land
Where all things and Jerusalem are new.
We know not half they sing or half they do,
But this we know, they rest and understand.
In this life we often have little time for rest and many, many times we do not understand. But in that place that God is preparing for all those who know him and love him, there will be rest and there will be understanding. In the meantime, the saints—all the saints—beckon us forward.
This article originally appeared in the 2019 edition of Beeson magazine. Read past editions of Beeson