Published on February 25, 2019 by Grant Taylor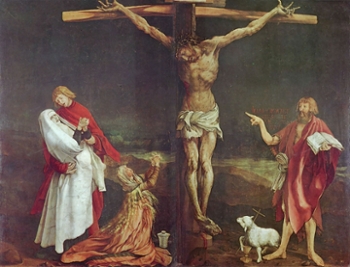 Dr. Grant Taylor preached this sermon in Hodges Chapel on January 29, 2019 as part of the Spring 2019 chapel series on "Jesus Christ: Abundant Life."
John's Gospel is a gospel of life. He writes, "Now, Jesus did many other signs before his disciples, which have not been written in this book. But these were written down in order that you might believe that Jesus is the Christ, the Son of God, and that by believing you might have life in his name" (John 20:30-31). John wanted to show Jesus' identity by narrating his words and works so that those who trust in Jesus would have life, eternal life. John's Gospel is a gospel of life, the beautiful and powerful narrative of the Creator and Redeemer of life.
John introduces this Creator and Redeemer with a prologue that bursts the boundaries of time and space. "In the beginning was the Word . . . ." (John 1:1) Dietrich Bonhoeffer writes, "That the Bible should speak of the beginning provokes the world, provokes us. For we cannot speak of the beginning. Where the beginning begins, there our thinking stops; there it comes to an end. Yet the desire to ask after the beginning is the innermost passion of our thinking; it is what in the end imparts reality to every genuine question we ask."[1] John claims that the Word, the logos, was in the beginning with God. Even more, he created all things and sustains all things in creation (John 1:1–4). John, therefore, speaks of the beginning because he speaks of reality and the one who Created and Redeems reality, the logos.
Dramatically and mysteriously, this logos enters into his creation and takes on flesh. He becomes a human being, subject to the frailty and vulnerability, but not the sin, humanity brings. (The crucifixion scene in Matthias Grünewald's Isenheim Altarpiece beautifully depicts his humanity.) The eternal Son of God became incarnate in Jesus Christ in order to reveal the grace and truth of the God of Moses and Jesus. Our Creator reveals himself as our Redeemer, the one who will lay down his life to give us eternal life (John 1:14–18; 10:11; 15:13).
As we hear John's Gospel, then, we encounter the living Jesus Christ. As we hear his words, we hear words of life (John 6:68-69). As we see Jesus' signs, we see resurrection life (John 11:25). As we encounter Jesus, we see the Father who sent him and the God who created us. Jesus, then, is the way, the truth, and the life (John 14:6-11). As we hear Jesus' words by the illumination of the Holy Spirit, we learn God's love (John 14:15-17, 25-26). We meet our Creator and our Redeemer, the Christ, the Son of God.
How, then, shall we live in this world that celebrates death while, ironically, striving to figure out life? We live among "the deathworks," as Philip Rieff observed.[2] In order to live, we need to hear the words of the one who made us and saves us. Joseph Ratzinger writes,
Why has faith still any chance at all? I should say it is because it corresponds to the nature of man. . . . None of the attempted answers will do; only the God who himself became finite in order to tear open our finitude and lead us out into the wide open spaces of his infinity, only he corresponds to the question of our being. That is why, even today, Christian faith will come to man again.[3]
Life follows faith because Jesus Christ, who created life, is the author, object, and person of our faith. Life is possible only for those who believe in the name of Jesus Christ. Only those who listen to the words of Jesus hear the words of eternal life. And only those who hear his words can truly see him (John 1:9–13; 9:35–41). If we do see him, though, we see the eternal Son of God. We enter now into eternal life with the Creator and Redeemer who is also our Creator and Redeemer. We become friends of Jesus and children of God. We enjoy the fullness of life.
Watch Dr. Taylor's full sermon below: 
[1] Dietrich Bonhoeffer, Creation and Fall: A Theological Exposition of Genesis 1–3 (DBW, vol. 3; ed., John W. de Gruchy; trans. Douglas Stephen Bax; Minneapolis: Fortress Press, 1997), 25.
[2] Philip Rieff, My Life Among the Deathworks: Illustrations of the Aesthetics of Authority (Sacred Order/Social Order, vol. 1; Charlottesville: Univ. of Virginia Press, 2006).
[3]Joseph Cardinal Ratzinger, Truth and Tolerance: Christian Belief and World Religions, trans. Henry Taylor (San Francisco: Ignatius, 2004), 137.