Published on June 28, 2019 by Kristen Padilla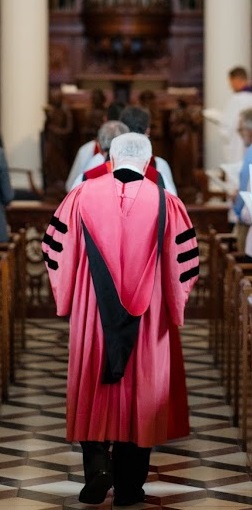 An Experiment in Theological Education
When George accepted the charge to start a new divinity school on the campus of Samford, he started with nothing except for Beeson's generous gift and a mandate: serve the whole body of Christ, remain faithful to God's Word and prepare men and women to carry the gospel of Jesus Christ to a lost world.
"As a friend of mine remarked, 'Timothy, you must be either crazy or really called of God to attempt such an undertaking!'"
But like Abram and Sarai, who set out on a pilgrimage of faith to an unknown destination, George felt impressed upon by God to move to Birmingham with Denise and their two children, Christian and Alyce, to undertake something few had done before. Shaped by his commitments to ecumenism and Christian unity that came out of his retrieval of the Reformation, Beeson Divinity School became an experiment in theological education.
George's vision, in line with Beeson's, was to carve out a Baptist university-based divinity school that was conservative and evangelical in its theology; unashamedly confessional in its commitment to the historic, orthodox Christian faith; intentionally interdenominational; superb academically; devoted to missions and evangelism; and committed both to classical theological education and practical ministry training.
But George knew this experiment would fail if Jesus Christ wasn't at the center. "The spiritual vitality of this place has always depended on prayer," he said.
"I remember in the very early days, when we were meeting across campus in a basement, we would gather together for prayer. It was a small group, very intimate, and those were very powerful times that helped gel the school in a spiritual way."
In 1994, six years into this experiment, George wrote for the Beeson magazine (previously called Vocatio) that "something extraordinary" was happening at Beeson. "There is a hunger and thirst for the things of God."
Reflecting on those early days of building the divinity school from scratch, George said he is indebted to many people who came alongside him to work toward a common goal.
"Leadership is not dictatorship. I hope I'm not a dictator," George said. "Rather, good leadership is about having a vision that grabs you, that constrains you, and then finding others who share it or can catch it and feel an investment in and an ownership of it, and who will walk together toward the goal.
"It's kind of like a marriage or being in love," he added. "Being in love or being married is not gazing into one another's eyes endlessly. It is clasping hands and walking together toward the horizon. That's what leadership is, and we've had that here at Beeson Divinity School because we've had a community of people who caught the vision—people who genuinely loved Jesus Christ and cared deeply for one another."
For All the Saints
George could point to any number of his many accomplishments as his greatest legacy: founding Beeson Divinity School, construction of Andrew Gerow Hodges Chapel, Evangelicals and Catholics Together, meeting three popes, speaking at the Vatican, chairing the drafting committee of the Amsterdam Declaration 2000, serving as senior editor of Christianity Today or general editor of the Reformation Commentary on Scripture (InterVarsity Press), writing the Manhattan Declaration with Chuck Colson and Robby George, or his more than 25 books.
Yet, when asked about his greatest legacy, he was quick to answer: "Beeson alumni and students."
"Our legacy is the people we've invested our lives in," George said. "The students are the heart and soul of any school, and to see our graduates, who have gone out and done such wonderful things in the Lord's work all around the world, brings me the greatest joy of anything in my job."
One gift he hopes he has given to each Beeson alum through the work of the school and Hodges Chapel is a sense of solidarity with the saints and martyrs who have gone before them.
"We have six martyrs remembered in statuary, one from each of the six inhabited continents of the earth, displayed very prominently in our chapel. But above the martyr statues and below the dome, where the great heavenly host surrounds the risen Christ, there are a number of empty niches," said George. "At one time we thought about putting something there, but we decided against that because we knew our students over time would be filling in those statues as they surrendered their life to the call of Christ, a discipleship which could lead to Martyrdom.
"So I sometimes say to our students, 'Those niches are for you. You follow wherever the call of God will lead you.'" When George chose the hymn, "For All the Saints," to be Beeson's anthem he did so with a recognition that in the New Testament sense we are all sinners who are forgiven and made holy by God in Jesus Christ.
"What's interesting is that a lot of the people we call saints today were not acknowledged as saints in their own lifetimes," George said. "Take for example Patrick, one of the most famous saints. Nobody in his day went around saying, 'Oh, St. Patrick, how are you today?' No. He said, 'I felt like a rock, a stone sunk in the mud until God picked me up and washed me off and gave me meaning.'"
Some have joked that Hodges Chapel is really St. Timothy's chapel. But when asked if he is St. Timothy, he emphatically says no.
Rather, he wants to be remembered as "a person who was touched by God in a special way in his life, who did not deserve all of the wonderful things that came his way, but someone who tried to follow that calling as best he could for as long as he could.
"If Jesus were to say, 'Well done, faithful servant,' no higher praise could be given to me in this life or the one to come."
Now that he is ready to close this chapter, George says he is ready to pass the vision of Beeson and the work of the school to a new dean.
"We want to advance the cause of Christ," said George. "We want to see the kingdom of God flourish in this world, and we'll do what we can to take it as far as we can. Then we will do our very best to pass the task on to somebody else who can run further than we can, faster than we can and who will one day cross that finish line."
This article originally appeared in the 2019 edition of Beeson magazine. Read past editions of Beeson.