Published on June 19, 2019 by Daniel McCarley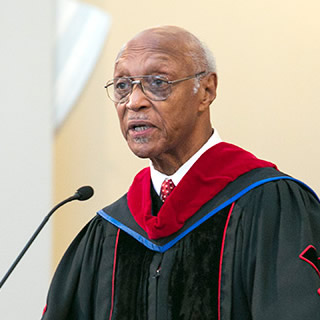 Selected sermons, essays and interviews of the late James Earl Massey (1930-2018), collected in the published anthology Views from the Mountain, introduce a preacher whose faithful ministry is confirmed by his many students. The title, from Martin Luther King's final speech "I've Been to the Mountaintop," pays apt tribute to Massey's preaching. Formed in the Wesleyan-Holiness tradition, Massey viewed the Christian life and his ministry from God's mountaintop by "living the resurrected life in Christ."
Christian spirituality is grounded in Christ. Massey writes,
Because Christ lives so do we with the sight and in the power of his Spirit! . . . It's a discipline that demands realism in the face of divisive walls, hostility, and hate … a discipline that properly and steadily informs, encourages, and energizes one to engage in the divine process of reconciliation, that readies one to take responsibility.
Massey's theology of mystical holiness, of being received into a new Christian reality, benchmarks the pastoral life as real-world ministry from the vantage point of heaven. In their holy union with Christ, believers glimpse the world from atop God's mountain, and "we gain a clear view of human life as God wills it." He is clear: "Christian holiness of life is far more than a figure of speech."
Reflecting the Wesleyan tradition, Massey insists that God does not merely impute his holiness to believers; he imparts it. It is "a change in one's very being." To make this very point, Massey quotes often from Colossians. Paul writes, "If then you have been raised with Christ, seek the things that are above, where Christ is, seated at the right hand of God . . . For you have died, and your life is hidden with Christ in God" (Col 3:1-3, ESV). "The secret" to the holy life, as Massey called it, is found in this holy mystery—union together with God.
But it is no ethereal secret. The mysteries of God are circumscribed by the mystery of the Word made flesh. Christ is the depth, width and height of the divine secret. As it says in Colossians, "For in him the whole fullness of deity dwells bodily" (2:9).
If Christian spirituality is grounded in Christ, then it must be earthy. Massey's holiness is one "that demands realism." The Christian life does not consist of private piety; it is decidedly social. As John Wesley famously puts it, "The gospel of Christ knows . . . no holiness but social holiness. Faith working by love is the length and breadth and depth and height of Christian perfection." Any other holiness is a cheap holiness.
In a 1975 essay, Massey explains that the American holiness movement in the 20th century had been faint in appeal to black believers because of its "emphasis on a strictly personal, pietistic inwardness." He says,
When African-American Christians think and witness about renewal and restoration, or about Christian unity, they also envision what these should mean for those who have been victimized by a racist system . . . Any personal quest for spiritual depth or closeness to God must inevitably include some concern for bettering the social process in America.
For this reason, "the social and the spiritual are viewed in a more related fashion by black believers than by most proponents of the Holiness tradition." They know that spiritual formation apart from reconciliation is alien to the gospel of Christ. Piety is circumscribed by the cross.
African-Americans also know that reconciliation is costly. In his sermon "Our Task as Reconcilers," Massey emphasizes this point:
Reconciling people is always a costly service. It cost Jesus his life to reconcile us to God, and we cannot be reconciling agents without undergoing some demands which will make us feel the press of a cross upon our lives. Reconciliation is Cross-work!
In favor of "mountaintop experiences," cheap holiness bypasses the pain of reconciliation, but, as Massey knows well, the only signpost marking the way to God's true mountaintop is a wooden cross. It is only by seeing my own sin, then, that I may know the God who saves. And just as I cannot worship at the foot of the cross without first having seen the calluses on my hands from nailing him there, neither can I sing beside my black kin without knowing I inherited blood that has spilled theirs.
It is in this way that Christians may see the world as God sees it. Mountaintop spirituality that is not costly is a faux, cheap holiness. Massey had been to the mountaintop because he had been to the cross. This gives credence to his word that believers, by living "the resurrected life in Christ," receive "the vision which transforms"—the kingdom on earth as it is in heaven. "Therefore," as Paul writes, "we regard no one from a human point of view; even though we once knew Christ from a human point of view, we know him no longer in that way. So if anyone is in Christ, there is a new creation: everything old has passed away; see, everything has become new!" (2 Cor 5:16-17, NRSV).
Daniel McCarley is a third-year M.Div. student at Beeson Divinity School. 
This article originally appeared in the 2019 edition of Beeson magazine. Read past editions of Beeson.