Published on April 10, 2020 by Douglas A. Sweeney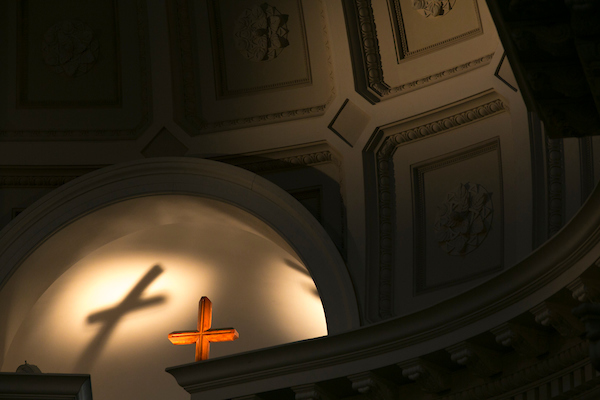 "The Lord of glory" has been "crucified" (1 Cor. 2:8). Jesus Christ, the Son of God, referred to by apostles as "the image of the invisible God" (Col. 1:15), the one in whom "the whole fullness of deity dwells bodily" (Col. 2:9), has died on a cross to save his people from their sins.
What an amazing thing to ponder. We are used to identifying with the Lord's human nature and imagining the pain he must have felt on Calvary. But how many of us have thought about the Lord's divine nature and the fact that God has purchased us, his church, "with his own blood" (Acts 20:28)? 
According to Martin Luther, the divine and human natures of the Lord "are so united" that Mary "suckle[d] God with her breasts, bathe[d] God, rock[ed] Him, and carrie[d] Him; furthermore, that Pilate and Herod crucified and killed God." In one of his best known books, he unpacked the implications of such startling pronouncements. "If it cannot be said that God died for us, but only a man, we are lost; but if God's death and a dead God lie in the balance, his side goes down and ours goes up like a light and empty scale." Further, God "could not sit on the scale unless he had become a man like us, so that it could be called God's dying, God's martyrdom, God's blood, and God's death. For God in his own nature cannot die; but now that God and man are united in one person, it is called God's death when the man dies who is one substance or one person with God."
Theologians have debated such statements for centuries. Most are quick to underscore that God in himself (apart from Christ) does not suffer, but suffers only in and through the human nature of Christ. Still, all serious Christians have agreed on this: God knows our pain and suffering. He sympathizes with us in our earthly tribulations. He understands our feelings of forsakenness and loneliness—even as we struggle through this global pandemic. He is present to us now, calling us to trust him. What a heaven-sent friend we have in Jesus.
Douglas A. Sweeney is dean of Beeson Divinity School.