Published on November 6, 2020 by Ronald Sterling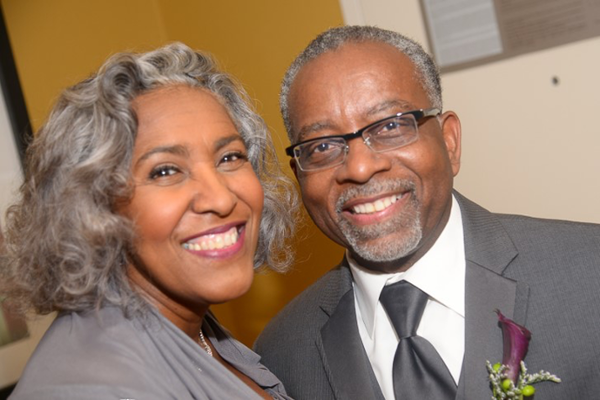 Dr. Ronald Sterling is today's Friday Faculty Feature. He is lecturer in Pastoral Studies and director of Student Services at Beeson, and is the pastor of Saint John AME Church in Birmingham. He has been married to Kim for 47 years, and they have three children and eight grandchildren.
Where are you from?
I am originally from Baton Rouge, Louisiana, but moved to Birmingham in 1988 to accept a job promotion with Bellsouth, Telecommunications, Inc.
How does your vocation as a pastor shape the way you teach and minister to students?
First, I have been a pastor in the AME Church for 23 years, and I have pastored three churches. Over the years, I have witnessed congregational growth in each setting. Still, more specifically, I have seen personal growth in myself, such as in the areas of love and patience. Also, the Lord has taught me the importance of meeting people where they are. I find this to be vital in teaching (ministering) to my students. For many of them, this is their first semester at Beeson, which can create anxiety. Also, my background in chaplaincy helps me to understand the importance of presenting to my class a calming and non-threatening presence.
Although I am a pastor and serve God's people in a local church setting, my calling as a pastor is not geographically restrictive. The gift to shepherd the people of God as empowered by the Holy Spirit resides within me, so even in the classroom as a teacher, I am still a pastor. As a pastor, I have a passion for caring for the needs of those who have been entrusted to my care, whether in the local church or the classroom. I have a strong passion for the students' wellbeing, so they're constantly reminded of  God's love for them and that He's concerned about whatever concerns them.  Whether it's the languages' challenges, the extensive readings required in the classes, or tension in personal relationships, the Lord cares. Students are reminded that all of their life experiences are connected to their ongoing spiritual formation.
Many of the students sense a calling to pastor, so my many years of pastoring allow me to share with them from my life experiences and live out that calling as I interact with them weekly.
What are some of the most important lessons you hope students will learn from you?
Some of the most important lessons I hope students will learn from me is the importance of allowing God's Spirit to live in and work through them. One's calling into ministry is not based on any merits of our own but on the sovereign will of God and his grace. Grace has been extended to all of us, even in the classroom, and they too must grow in their understanding of how they must learn to extend grace to others. 
What gives you the greatest joy of teaching students at Beeson?
I receive the greatest joy in teaching students at Beeson when I see their hearts open up to receive the grace available to them through a genuine community of believers. Through the Beeson community, they begin to experience God's joy and peace because they are not alone in their journey. Also, I realize that teaching students at Beeson will not only affect them while they study at Beeson but will also affect their future ministry.
Why Beeson?
I believe all institutions, whether the church or the academy, has a certain presence about it. When I entered Beeson as a student in 2004, I encountered a place of higher learning where I experienced encouragement, grace, mercy and a genuine community of believers. I sensed the presence of God in my interaction with the staff, faculty and the student body. The Lord would use this setting to show me how amazing His grace was and how He would have people in place to assist me on my spiritual journey. Now that I am a part of the faculty and staff at Beeson, I still experience God's presence, but I can also give back to my students what was meaningful and transformative for me.