Published on November 13, 2020 by Tom Fuller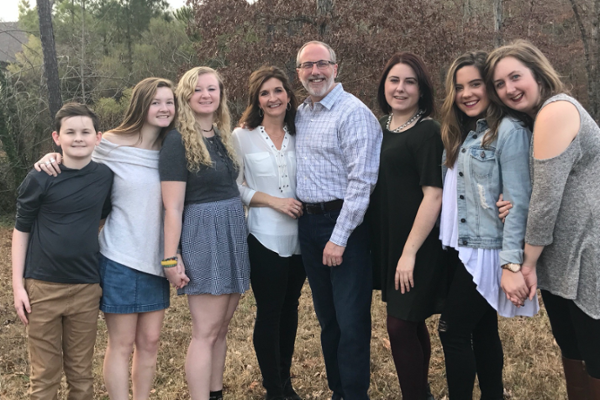 Dr. Thomas (Tom) Fuller is today's Friday Faculty Feature. He is Beeson's associate dean, and is married to Allison. They have six children.
Where are you from?
I was born and raised here in Birmingham. After graduating from Samford, I lived in Kentucky and southern Indiana for nine years, pursuing my seminary studies and pastoring a church. I returned to the Birmingham area in 1996, and have been here ever since.
What do you do in your role as Associate Dean?
I would compare it to being an executive or administrative pastor on a multi-staff church staff. I'm responsible for ensuring that our people and our programs are working well to accomplish our mission. Jim Pounds has a similar role with respect to our financial operations, physical facilities, and some other areas. I concentrate primarily on the academic side of things—admission, enrollment management, curriculum, supporting the faculty in their work, etc. Jim and I both serve to support and advise Dean Sweeney however we can as he provides overall leadership to the school. I love what I do. I love the people with whom I get to do it. And I love serving the Lord in this capacity at Beeson Divinity School.
Why Beeson?
When I was afforded the opportunity to join the faculty and staff at Beeson almost 22 years ago, I served as pastor of a local church. As I wrestled with the decision to leave that position to come to Beeson, it was important to me to continue fulfilling my call to "feed the sheep" and build up the body of Christ. Founding Dean George assured me that Beeson was just the kind of place where I could do that. And I have discovered in the years since that he was exactly right. Beeson is more than a school delivering courses and awarding degrees; it's a worshiping community of faith in which God shapes people by his Word and by his Spirit for the sake of the gospel. Being a part of the Beeson family has blessed and shaped me. And I am thankful that the Lord allows me to be a part of that same amazing work he is doing in others' lives through Beeson Divinity School.
What course(s) do you teach, and what excites you about them?
Since moving into the associate dean position, I teach only one course a year—Faith & Vocation, the M.A.T.S. program's capstone course. But, for the 20 years before that, I taught courses in ministry leadership, primarily in conjunction with the supervised ministry practicum. There's a common denominator among the courses I've taught before and the course I teach now. I call it helping students connect the threads. Another word for it is integration. I am energized by helping students begin the lifelong work of blending who they are in Christ, what they've learned (and, hopefully, will continue to learn) about the Word of God and the Christian faith, and what they do in service to the church and the world for the cause of Christ into a meaningful, well-integrated whole. We often talk about the Christian life and ministry work in terms of head, heart and hands. Faithful gospel ministry requires all of these (i.e., the whole person) ministering the whole gospel to the whole world. I appreciate getting to play a small part in the Lord's work of bringing these things together in the formation of ministers for the church.
What are some of the most important lessons you hope students will learn from you?
I don't always do the greatest job of teaching this, but I hope that students will learn to rest: in the love of God, in the Word of God, in the sufficiency of Christ's atoning work, in the agency of the Holy Spirit and in the hope of the gospel. There are so many occasions for doubt, anxiety and fear in the Christian life and certainly in the life and work of Christian ministry. But Jesus has given us his peace (Jn. 14:27) and charged us to tend his flock with a spirit of humble confidence (1 Pt. 5:2-3). I hope students will learn to claim the rest God gives through their days at Beeson and grow in that rest through all the days that follow.
What is a fun fact or facts people may not know about you?
I have driven a race car multiple laps around the Talladega Superspeedway. I'm also a big fan of college football (Samford and Auburn are my teams); I love Bluegrass music; and I'm an avid boater.