Published on July 6, 2020 by Timothy George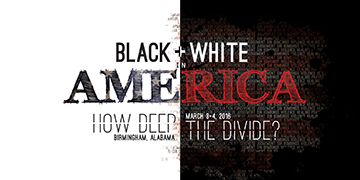 The following blog post features a sermon Dr. Timothy George delivered at Beeson Divinity School for the "Black and White in America" conference on March 4, 2016.
An argument arose among them as to which of them was the greatest. But Jesus, knowing the reasoning of their hearts, took a child and put him by his side and said to them, "Whoever receives this child in my name receives me, and whoever receives me receives him who sent me. For he who is least among you all is the one who is great." John answered, "Master, we saw someone casting out demons in your name, and we tried to stop him, because he does not follow with us." But Jesus said to him, "Do not stop him, for the one who is not against you is for you." When the days drew near for him to be taken up, he set his face to go to Jerusalem. And he sent messengers ahead of him, who went and entered a village of the Samaritans, to make preparations for him. But the people did not receive him, because his face was set toward Jerusalem. And when his disciples James and John saw it, they said, "Lord, do you want us to tell fire to come down from heaven andconsume them?" But he turned and rebuked them. And they went on to another village. (Luke 9:46-56)
This conference on white and black in America has taken place during the season of Lent. Lent is a time when Christians walk together with Jesus on the way to the cross. In this text from Luke 9, we have three incidents that happened as Jesus and the disciples were walking together toward Jerusalem, toward the cross. And each of these incidents in the life of Jesus and the disciples has something to teach us who are on the way to reconciliation. Each of them is related to a roadblock. Lent is a season of repentance, of seeking forgiveness, and of beginning again.
The first incident began in the context of an argument among the disciples. Jesus's disciples have been fussing for a long time. Controversy is not new—it goes all the way back to this band of disciples, walking along the road beside Jesus, who begin to argue and fight among themselves. Now, what are they fighting about? Maybe it is some great theological doctrine like the Holy Trinity—how can God be One and Three at the same time? Or the mystery of the Incarnation: how can Jesus Christ be fully God and at the same time completely human? Maybe it was some other deep theological conundrum? Nothing like that. What were they arguing about? Which of them would be the greatest. Who is the greatest? When you come into your Kingdom, Lord, who will be on your right hand and who on your left hand? When the new administration begins, who will be the Secretary of State? The Secretary of Defense? And the Bible says, "Jesus knowing their thoughts"—he's a mind-reading Savior with laser precision.
He knows their thoughts and in response to the bickering, feuding disciples, Jesus takes a little child and places the child in the midst of them and he says, "Whoever welcomes this little child, welcomes me. And whoever does not welcome this child, does not welcome me." Throughout this conference, we have heard a lot about children, about the next generation, about young people, and how they will know or not know the history that will inform their future. Jesus too is very concerned about children. Here he places this little child in the midst of the disciples and says: you want to know the way up? Who's going to be the greatest? Look down. Look at this little child. Children are important because every human being made in the image of God is important—children both born and unborn. We affirm the sanctity of human life from the moment of conception until natural death. Why is this important? The dignity of human beings derives from the fact that every person without exception is made in the image of God. We belong to him.
I once had a student on one of my courses who told me about his experience with Vacation Bible School. The church had an emphasis to welcome the whole community. "Everyone welcome," their sign said. He invited the entire community to come to Vacation Bible School. One of those who responded to this invitation was an African American girl who had not been in that church before. She was assigned to a particular teacher in the Vacation Bible School. When the pastor came in the next day, the teacher was there with the little girl at her side. The teacher said, "Preacher, you invited her, now you can teach her." Jesus welcomes the little children. All the little children of the world: red and yellow, black and white, they are precious in his sight.
A few Easters ago, I was invited to preach at a church on Easter Sunday. I took as my text Luke 16:19-31. It is the story of the rich man and Lazarus. The rich man in hell talks to Father Abraham and says, "I beg you, father, to send him [Lazarus] to my father's house— for I have five brothers—so that he may warn them, lest they also come into this place of torment." And Father Abraham says, "They have Moses and the Prophets; let them hear them. If they do not hear Moses and the Prophets, neither will they be convinced if someone should rise from the dead." That's why it was an Easter sermon. Because of course Somebody did rise from the dead and many still don't believe it. What was the sin that sent the rich man to hell? It was the sin of inhospitality. The rich man had a beggar at his gate and he wouldn't pass the bread. It wasn't his bread—the earth is the Lord's and the fullness thereof. He didn't want to share that bread with the beggar. He didn't want the beggar coming to his table. It is interesting how eating together is such a sensitive issue. Where did the civil rights movement begin in this part of the country? At lunch counters. The sin of inhospitality is what Jesus is dealing with here and it is at the root of so many of the racial problems we have in our nation.
There is another incident that follows the disciples debating their own greatness. It is when the disciples saw an unnamed, anonymous exorcist casting out demons in Jesus's name. The text says the disciples tried to stop him because he was not one of them. This is the sin of insularity. Another road block on the Jesus way. Insul is that Latin word "island." We live as though we are self-contained islands floating alone in the ocean of humanity. An impossible task once we have gotten a glimpse of Jesus Christ and of the way of faith.
W. E. B. Dubois said in 1903 in that classic of American literature, The Souls of Black Folk, that the color line was the great problem of the twentieth century. A lot has happened in our country since 1903, much of it good and redemptive but what he said then is still prophetic for our condition today. We will never begin to deal with this problem unless we recognize that no man or woman is an island, no church is an island, no denomination is an island entire to itself. We belong to one another. We are a part of what God is doing in this world. We have to get past that road block, not only of inhospitality but also of insularity.
Now, there is a third problem here too. They flow one from the other: inhospitality leads to insularity—it's a sectarianism—and this, in turn, leads to this most devastating of road blocks on the way to Jesus Christ, toward the cross. It is a problem Jesus encountered when he entered into a certain village in Samaria and his own disciples said, "Lord, do you want us to tell fire to come down from heaven and consume them?" We'll nuke 'em! We'll burn 'em to a crisp! This is the sin of inhumanity. Inhospitality leads to insularity and insularity leads to inhumanity.
What a thin line there is between this kind of bitterness, resentment, hatred, and violence. Martin Luther King knew that when he talked about the beloved community and called us all to a different way. This is what Jesus did here. He said, in essence, "Nope, we are not giving up on Samaria. We are not going to do it that way. We are going to do it God's way." If we want to get where God wants us to go, if we want to accomplish what God wants us to accomplish, if we want to be who God has called us to be, then we have to use God's way of getting there. That way is the way of love. This is no easy love. Sometimes it is even tough love. It is an honest, truth-telling love. It is the love that follows the pattern of Jesus Christ who though he was in the form of God, did not consider equality with God a thing to be grasped. Nonetheless, he humbled himself, became obedient unto death, even the death on the cross (Phil. 2:5-8). Can we follow that Jesus Christ? That Jesus Christ of the narrow way, the Jesus Christ of the Golgotha way, that Jesus Christ that leads us at the end of the day to the cross.
Yes, there will be a resurrection too. But we do not jump too quickly to resurrection until we have lingered for a while in a season of preparation, repentance, crucifying sin and self, pondering our own sins, our need for forgiveness, and the great love that God has showered on all of his children, calling them to know him, to follow him, and to serve him. Amen.
Watch Dr. George give this sermon here:
Dr. Timothy George is the founding dean of Beeson Divinity School, where he now serves as Distinguished Professor of Divinity.