Published on January 8, 2021 by Gerald Bray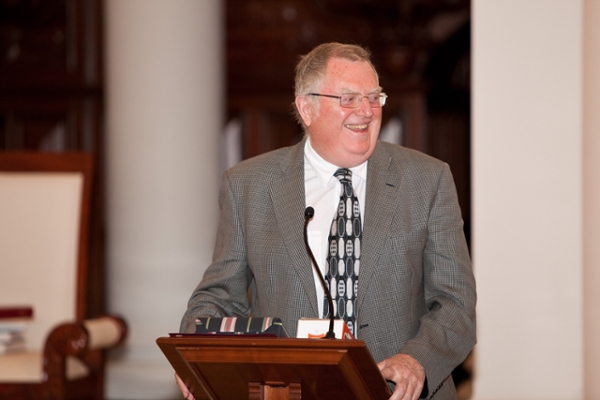 Dr. Gerald Bray is today's Friday Faculty Feature. He is research professor of divinity at Beeson, where he teaches in the areas of church history and historical theology, and is a minister in the Church of England.
Where are you from? 
I am from Montreal, where I was born and grew up in a bilingual environment. My father's family came from England, and after studying in Paris for three years, I went there in 1972.
How long have you been at Beeson?
I have been at Beeson since February 1, 1993. I was between jobs, and Dr. George was looking for an Anglican to take the professorial chair that Mr. Beeson had established a few years earlier. I had been in Alabama before, but only in Mobile, so Birmingham was a new experience for me. At first I turned the job offer down, but the job I was going to in Oxford fell through for lack of funding, so I changed my mind. It was hard at first because I felt like a fish out of water, but I gradually adjusted and now I am very happy to be here.
What courses do you teach at Beeson?
I teach courses in church history and theology, specializing in Anglicanism and in British history generally, though I have taught patristics and ancient languages as well.
What are some of the most important lessons you hope students will learn from you?
I hope that students will learn from me that it is not enough to talk the talk—we must walk the walk as well. I want people to see that what I do comes from the heart as much as from the head, and I want students to hold those two things together. Living the Christian life is costly and demands sacrifice. You do not become popular by taking a stand on some issues, but that is what we are called to do and I want to be seen doing it. If others are inspired by that, then I am happy and thank God for his goodness to someone who does not deserve it.
Why Beeson?
I have found Beeson a good environment to work in and appreciate the interdenominational character of the school. I am an Anglican, but I pay little attention to denominational labels. Beeson is a wonderful place for theological cross-fertilization. We have produced a number of outstanding graduates, one of whom (a Baptist) is now teaching in my old theological college in Cambridge. I am not sure who was the most surprised by this—me, the graduate or the people who hired him. That's what can happen at Beeson.
What is a fun fact people may not know about you?
I fluently speak nine languages (English, Spanish, French, Italian, Portuguese, German, Dutch, Greek and Russian).
What future projects are on the horizon?
I am about to publish a History of Christianity in Britain and Ireland, which will come out on June 17, 2021. I hope that it will become the standard work in its field. I have written it in a scholarly manner, but my Christian faith comes across very strongly as well. I hope that it will be an inspiration to believers who read it.