Published on January 15, 2021 by Mark Gignilliat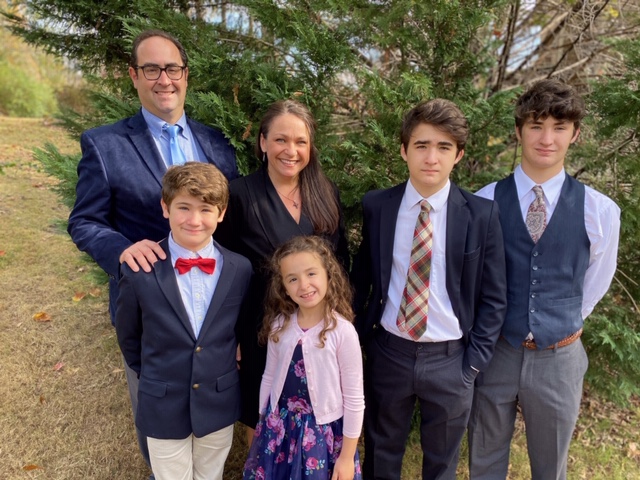 Dr. Mark Gignilliat is today's Friday Faculty Feature. He is professor of divinity at Beeson, where he teaches courses in Old Testament and Hebrew, and also serves as Canon Theologian at the Cathedral Church of the Advent in Birmingham. Dr. Gignilliat is married to Naomi, and they have four children.
Where are you from? 
I'm from Tampa, Florida. My mother is a Tampa native, moving there from Lebanon as an infant. My father hails from the low country of South Carolina. In 1968, they met and married in Tampa. My father had just returned from Vietnam and was serving in the Air Force's security service at Macdill Air Force Base. I was born on that base. 
Why Beeson?
Well, Beeson was crazy enough to offer me a job as a twenty-nine-year-old. I say that only half in jest. I remain grateful to Dr. George and Dr. House for taking a risk on me. I believe in Beeson's mission and classical approach to theological education. Historically (and admittedly this history isn't long), Beeson mirrors the patience of orthodox Christianity and is slow to follow trends while still open to reform. I've benefitted from the ecclesial diversity at Beeson as well. I do think it's a hallmark of a generous orthodoxy to appreciate the gifts various denominations bring.
What do you enjoy about being in the classroom?
The simple answer is: students and the subject matter. Though there is a predictable rhythm in academic life, every class has its own DNA that can't be anticipated. I look forward to this feature of academic life. The students at Beeson are a blessing. Most are eager to learn, curious, and hard workers. I was just telling my wife that this past fall semester may have been my favorite in the classroom (and that was with masks!). I'm sure I've said the same thing many times before.
I get to study the Bible on a deep level with students in the classroom. Not all days are engaged in this activity, but at its most basic level, all the classes I teach have this telos in mind. I love Fiddler on the Roof. There's a comedic scene near the beginning of the musical where Reb Tevye sings "If I were a rich man." He's lamenting his poverty in comedic song. It's all dancing and clapping, while Reb Tevye schlepps his hay and feed to the animals. One line, however, takes a serious note. Reb Tevye sits down and muses that if here a rich man he'd "discuss the Holy Books with the learned men seven hours every day." He sighs and sings, "And that would be the sweetest thing of all." I love that line, and in this sense, I'm a rich man.
What are some of the most important lessons you hope students will learn from you? 
I think I've set a standard on nutrition and fitness. I might start a blog they can follow. Maybe my fashion sense? (Dallas Knight would have something to say about that!) I don't know how to answer this, really. I hope they learn to parse so I don't make Allen Ross, Paul House, and Ken Mathews mad. More seriously, I hope they get caught up with affection and energy for Christ and his Word.
What is a fun fact people may not know about you?
The late Paul Newman's wife, Joanne Woodward, is a Gignilliat. My grandmother used this irrelevant piece of family trivia to land a dance with Lawrence Welk many years ago. I think Dr. House's family has some tie to the Gignilliat clan as well. The Gignilliats were Huguenots from French speaking Switzerland. I believe Dr. Bray spoke at the French Huguenot church in Charleston, SC several years back and ran into kin of mine there. Apparently, there is a family castle in Switzerland that I plan to lay claim to at some point.
What project(s) are you currently working on?
I'm wrapping up an introduction to the Old Testament for undergraduates. I have a few other sticks in the fire, but I'm excited to begin a commentary on Isaiah in the new series Eerdmans is publishing: The Commentary for Christian Formation. I think the first volume on Galatians by N.T. Wright is either out or coming out. I also plan to work on a Theology of Translation at some point. I have a publisher interested in the project, but I need to put a little more meat on the skeleton.
How do you understand your vocation as a professor?
My vocation is in service of Jesus Christ and his Word. I need consistent reminding of this simple vocational identity. It's clarifying and provides a level of focus, especially for someone who can get distracted.