Published on March 7, 2021 by Jordan C.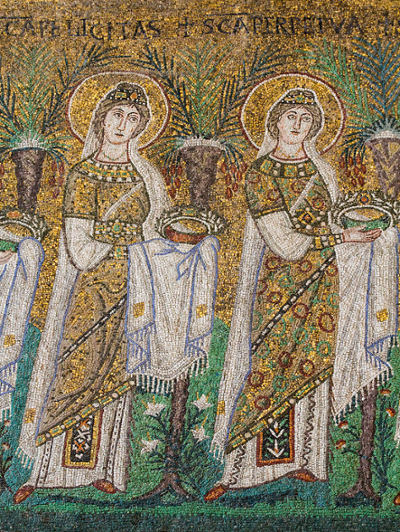 I first met Perpetua around eight years ago. I was wrapping up a five-month stay in North Africa and had made a last trip to the capital city before flying back to the States to start the next season of life.
After navigating a few hours of chaotic traffic, we arrived at the site of a Roman amphitheater. An empty guard shack and a gravel parking lot did not do much to pique my interest. Trash, including a recently dumped litter of puppies, was scattered over what should have been a well-maintained historic site. Nothing indicated to me that this was a place of holy encounters.
Donna, my "aunt," handed out green notebooks and instructed our little group to spread out to read the story of Perpetua, who was martyred on the ground where we stood. The mood quickly shifted from our excitement about cute puppies. I wandered through the ruins for a few minutes then sat down with my notes. As I began reading, I felt my heart strengthened by the words of Perpetua and Felicitas.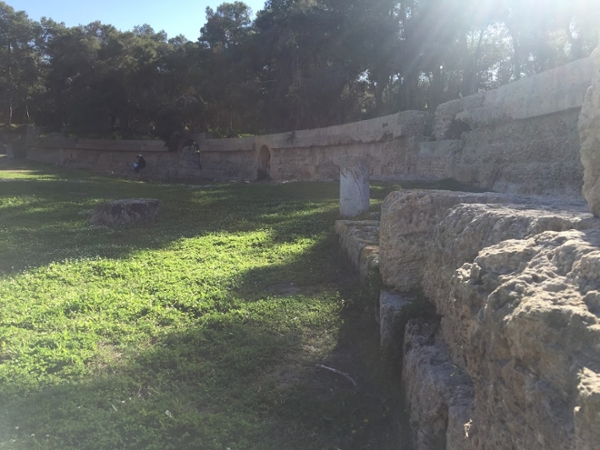 Perpetua, who lived in the second to third centuries A.D., was a new believer who, along with five other fellow catechumens (her slaves Revocatus and Felicitas; Saturninus, Secundulus, and possibly Perpetua's own brother, who is unnamed) and Saturus their teacher, were martyred under the reign of Emperor Septimius Severus.[1]
Perpetua began a diary to chronicle her time in prison leading up to her martyrdom. This diary was preserved, and its contents are available online or in several books. Through a series of visions, Perpetua's resolve to stand firm in her faith grew. She refused to renounce Christ and willingly suffered death in the Roman arena, where I sat reading about her visions.

She wrote:
"Then my brother said to me: 'Dear sister, you are greatly privileged; surely you might ask for a vision to discover whether you are to be condemned or freed.' Faithfully I promised that I would, for I knew that I could speak with the Lord, whose great blessings I had come to experience. And so I said: 'I shall tell you tomorrow.' Then I made my request and this was the vision I had."[2]
I often think about Perpetua's confidence before her brother as she sat in prison, awaiting her death. She knew that even though she had few rights left to her, she could speak with the Lord. She had experienced the Lord Jesus's great blessings.
Describing her vision, she wrote:
"Then I saw an immense garden, and in it a gray-haired man sat in shepherd's garb; tall he was, and milking sheep. And standing around him were many thousands of people clad in white garments. He raised his head, looked at me, and said: 'I am glad you have come, my child.' He called me over to him and gave me, as it were, a mouthful of the milk he was drawing; and I took it into my cupped hands and consumed it. And all those who stood around said: 'Amen!' At the sound of this word I came to, with the taste of something sweet still in my mouth. I at once told this to my brother, and we realized that we would have to suffer, and that from now on we would no longer have any hope in this life."
After reading about this vision, I began to weep. Perpetua was not the only woman in this land to have visions of a man robed in white and a crowd of witnesses. Only a week or two prior, our team had received word of a woman in a desert town in the south seeking information about Jesus.
When a couple of the women on our team met with her, she shared that she had been having the same dream for years. In this woman's dream, a man in white invited her to a tent in the desert. When they arrived, a crowd of people wearing white robes was singing and calling out to the man holding her hand. The woman recognized the man as Jesus, because those calling out in worship to him kept saying, "Mesahiyah," which is the word in her local dialect used to identify Jesus and his followers. After meeting and hearing about her dreams, the team shared that the man in her dreams was Jesus and that he was indeed the Messiah.
A month or two after I left, I received word from my friends that the woman had come to faith in the white-robed man who had been meeting her in her dreams all those years. They baptized her in the bathtub in our little apartment. While unlikely that she will face the same fate as Perpetua, she will surely suffer persecution and hardship as she follows Christ—for all who choose to follow him in that land do.
Visitors to Hodges Chapel can see Perpetua and Felicitas among the great cloud of witnesses depicted in the dome. Today, on the anniversary of their death, we remember Perpetua and Felicitas and all the women around the world through whom Scripture is fulfilled through their Spirit-granted dreams and visions. May Perpetua's life give us confidence to speak with the Lord.
We also pray for those who encounter Jesus in dreams as a man robed in white leading them to himself. May they come to a saving knowledge of him, and, as a result, may the Spirit of God be poured out on them. And may they find Christians who will open Scripture with them and tell them more about this Jesus.
"And it shall come to pass afterward,
    that I will pour out my Spirit on all flesh;
your sons and your daughters shall prophesy,
    your old men shall dream dreams,
    and your young men shall see visions.
Even on the male and female servants
    in those days I will pour out my Spirit." 
Joel 2:28-29 (ESV)
Jordan C. is an M.Div. student at Beeson. Names and specific details of this story have been changed or purposefully left off to protect those serving the Lord in places where it is illegal to proselytize.
[1] It is unclear if the four named believers were all Perpetua's slaves, or if only Revocatus and Felicitas were. For more information see: "Perpetua," Christian History | Learn the History of Christianity & the Church (Christian History, August 8, 2008).
"Primary Sources - The Martyrdom Of Saints Perpetua And Felicitas | From Jesus To Christ | FRONTLINE," PBS (Public Broadcasting Service, April 1998), trans. Herbert Musurillo, OUP, 1972.
Joyce E Salisbury, "Perpetua," Encyclopædia Britannica (Encyclopædia Britannica, accessed March 3, 2021).
[2] Herbert A. Musurillo, The Acts of the Christian Martyrs (Oxford: Clarendon Press, 1972). Emphasis mine.