Published on February 26, 2022 by Anton Ivanov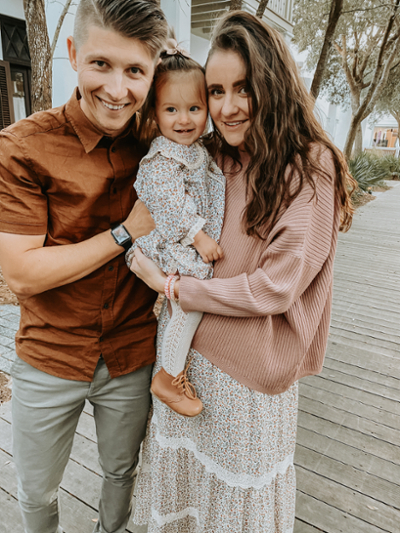 Anton Ivanov is a 2021 M.Div. graduate of Beeson Divinity School. He is Russian and his wife is Ukrainian. Dasha is a member of Third Presbyterian Church (PCA) in Birmingham, AL, while Anton serves there as assistant pastor. The following is a testimony from Anton.
My wife and I were asked to say a little something about how Christians can pray and get involved with the war in Ukraine. And before I do it, I would like to offer a quick word.
I heard it said that when you marry someone, you also marry their family. When I married Dasha, I didn't only marry her family, I married her country. I am from Russia, and she is from Ukraine. You figure out the rest.
In Mark 10:9 Jesus says, "What God has joined together, let no one separate." And serious joining and linking God performed indeed. My birth certificate shows the place of my birth—the Republic of Kazakhstan, my wife's—USSR, our daughter's—Homewood, Alabama. My passport shows the country of my citizenship—Russia, my wife's—Ukraine, our daughter's—the United States of America. God connects and unites us in mysterious ways.
I heard it also said that when you join the Church, you marry the whole family of God. Christians who didn't know about each other's existence are now connected with other believers by invisible faith in the living God. Christians on this continent are connected to Christians across the ocean. Truly we are one in Christ. In Ephesians 2:19 Paul says that we are no longer strangers and aliens, but we are fellow citizens with the saints and members of the household of God. In Ephesians 4 Paul says that there is one body and one Spirit just as there is one God and Father of all. In Revelation 7 John makes it clear that people from every nation, from all tribes and languages belong to God, even now. Children of God, one in Christ, members of the same body and of the household of God, individually members one of another. God connects and unites us, making us members of his mystical body. What God has joined together, let no man separate.
God connects and unites us, making us members of his mystical body. What God has joined together, let no man separate.
Christ prayed to the Father that we may all be one, and therefore, no distance, nor war, nor rulers, nor things present nor things to come, nor powers, nor height nor depth, nor anything else in all creation shall separate us. Truly we are married to the whole family of God.
There comes a time though when each family undergoes suffering, and if one member suffers, all suffer together. I and you, with them. Ukrainian people and others who are deeply connected to Ukraine whom I spoke with told me that the war in Ukraine feels like death in the family. Perhaps you have lost a loved one. When you first hear of death in the family the first word that comes to mind is… irreversible. My life will never be the same without this person… my country will never be the same… Perhaps this describes the experience of many Ukrainian Christians across the world.
When you deal with death you are filled with sorrow, you feel weak, you weep, you don't sleep, you don't eat, and you want to visit the places that you once visited with your loved ones. When talking to Dasha's friends in Ukraine their experience is very similar, they grieve and they weep, they can't sleep or eat, they want to go back to the places they used to love but they can't.
Dasha's grandparents, who are both now 80 years old, said that they are not evacuating. They choose to remain in the house and in the city where they've spent their lives. I can't imagine anyone in the south here making a different decision had the invasion come to this land. But those who do evacuate have to leave their homes, their cars, their jobs and flee at the sound of crying children and at the blasts of gunshots. They no longer wake up to the sound of the alarm on their phones but to the noise of sirens and bomb explosions. Kids say goodbye to their fathers; however, no longer as fathers go to work but to war. People go to the subway station; however, no longer for transportation but to seek shelter.
Irreversible. Perhaps this is what the disciples thought when they saw Christ hanging on the cross. Dostoevsky knew of the pain of the coming death and of suffering, and he begins his unforgettable novel, "The Brothers Karamazov," with these words of our Lord, "Truly, truly, I say to you, unless a grain of wheat falls into the earth and dies, it remains alone; but if it dies, it bears much fruit." Perhaps it feels and looks like death in the family of God but we are hopeful. The people of Ukraine with whom I've spoken remain hopeful. This hope is based on nothing else but on the fact that the Lord is the resurrection and the life, that the Lord calls into existence the things that do not exist, and that the Lord is able to heal the land of Ukraine.
Ultimately, we believe that the Lord will make The New Heaven and the New Earth but now I want to remind us all of the vows that we made before God when we made a public profession of our faith and joined the intercontinental family of God.
Bear one another's burdens, let each of you look not only to his own interests, but also to the interests of others, be kind and compassionate, love your neighbor as yourself, love one another: just as I have loved you, you also are to love one another. (Phil. 2:4; Gal. 6:2; Rom. 12:10; John 13:34, 15:12).
So what can you do? Some of these prayer requests have been shared with me by the natives of Ukraine.
Reach out to the Ukrainian people that you have come into contact with, and love them.
Pray for the civilians, that the Lord would spare their lives.
Pray for the soldiers who are defending the Ukrainian land.
Pray for Christians that they would make wise and God-honoring decisions in extreme situations.
Pray for comfort and peace for mothers who are caring for little children while their husbands are drafted.
Pray for safe evacuation for those who decide to move.
Pray for the elderly who decide to stay.
Pray that people outside Ukraine would continue to have communication with their loved ones inside the country.
Pray that Ukraine would receive international help.
Pray for basic physical needs, for food, water, gas, heat, baby goods.
If you would like to give, there are plenty of resources where you can donate online. Here are two local ministries in Ukraine that we personally know and trust. I am certain that they will use your donations for a godly cause, beyond what their ministries are initially designed to do. Pathway Ministries and Izmail Life Care Center.
C. S. Lewis said that war enforces a continual remembrance of death, and during wartime no human being can believe that he is going to live forever. I pray that we all feel the weight of these words, for our life truly is like a mist or a vapor. No doubt this is what many in Ukraine feel right now. Dasha told me she has never seen or heard so many non-believers in Ukraine claim to be praying to God. Pray that the Christians in Ukraine would clearly communicate the gospel of salvation to non-believers. Pray that in the midst of these evil circumstances the Lord would cause multitudes of Ukrainians to put their faith in the one true living God, pray for the nation to turn to God in repentance and prayer and that even the Russian aggressors would come to faith in Jesus Christ.