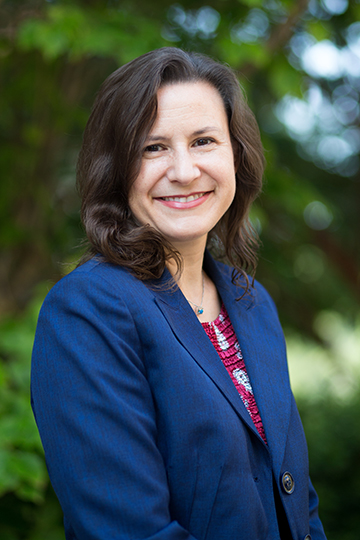 Associate Professor of Divinity
Beeson Divinity School
Spiritual Formation
 Divinity Hall
Stefana Dan Laing joined the faculty of Beeson Divinity School in 2018 as assistant professor of divinity and theological librarian. In 2022, she was promoted to associate professor. In this role, Laing teaches in the area of spiritual formation and will coordinate Beeson Divinity's Women's Theological Colloquium. As theological librarian, she works with the faculty to collect the best biblical, historical, theological and pastoral resources available for ministry training as well as instruct divinity students in the effective use of library resources for their studies at Beeson. Laing is the author of Retrieving History: Memory and Identity Formation in the Early Church (Baker, 2017), and her primary area of research is in Patristics. She is actively involved in the North American Patristics Society and the Evangelical Theological Society, and served as an editor for The Study Bible for Women (Holman, 2014). Prior to coming to Beeson Divinity School, Laing served as theological librarian at Southwestern Baptist Theological Seminary's J. Dalton Havard School for Theological Studies in Houston and taught courses in Christian spirituality, history and doctrine at Houston Graduate School of Theology and Houston Baptist University. She is married to John, and they have three children.
Education
Ph.D., The Southern Baptist Theological Seminary
M.S.L.S, University of North Texas
M.Div., The Southern Baptist Theological Seminary
B.A., Macquarie University, Sydney, Australia
Research Interests
Early Christian spirituality
historiography, hagiography
Theodoret of Cyrus
Evangelical Ressourcement movement
Involvement
North American Patristics Society
Evangelical Theological Society
American Theological Library Association
Association of Christian Librarians
Publications & Presentations
Book
Retrieving History: Memory and Identity Formation in the Early Church. Grand Rapids: Baker Academic, 2017. Amazon
Articles/ Chapters/ Edited Works
Laing, Stefana Dan, "Resurrection and Reason: A Patristic Consolation of the Bereaved." Journal of Spiritual Formation and Soul Care 8:1 (Spring, 2015): 8-27.
________. "Kingdom Living at Home and Abroad: The Spiritual Legacy of Two Church Mothers," in Dockery, Massey, and Smith (eds). Worship, Tradition, and Engagement: Essays in Honor of Timothy George. (Eugene, OR: Pickwick, 2018),129-148.
________. "The Cure of Souls at Antioch: A Response to Robert Hill on Theodoret of Cyrus as Spiritual Director" Fides et Humilitas 5 (Winter, 2019): 36-47. Access at: Ancient Christian Studies
________, with John D. Laing, "The Doctrine of the Future, The Doctrine of God, and Predictive Prophecy" in D. Jeffrey Bingham and Glenn R. Kreider (eds), Eschatology: Biblical, Historical, and Practical Approaches (Grand Rapids: Kregel, May, 2016), 77-101.
________, with John D. Laing, "'To marry in Christ': A Theological and Ethical Appraisal of John Chrysostom on Marriage," JETS 63:1 (Mar 2020), forthcoming.
Contributor to Mounce's Complete Expository Dictionary of Old and New Testament Words (Grand Rapids: Zondervan, 2006).
Contributing author in Women's Evangelical Library: Old Testament Commentary, books of Jeremiah, Lamentations, and Ezekiel (Nashville, TN: Holman, 2011).
Section Editor (Major Prophets), The Study Bible for Women (Nashville, TN: Holman, 2014)
Contributor to Evangelical America, eds. Paul Shockley and Tim Demy (Santa Barbara and Denver: ABC-CLIO, 2017)."Lancaster Bible College", "Bible Study Fellowship"; also contributor to Religion and Contemporary Politics (Santa Barbara and Denver: ABC-CLIO, 2019), "Eastern Orthodoxy and Politics: 1989-2018."
Blog Posts
"What Can We Learn From the Ancient Church?" (2018) Access at: Center for Baptist Renewal
"St. Antony: Beginnings and Resolutions in a Long Life with God," Finkenblog, January 17, 2019.
"Desertscapes," Finkenblog, March 6, 2020.
Podcasts
"Who was Theodoret of Cyrus?" (March 8, 2016); Interview on Beeson podcast
"Scripture and the Church Fathers," on Via Media, with Gerald McDermott, Institute of Anglican Studies at Beeson Divinity School. September 4, 2019. Posted September 19, 2019
Presentations
"Prayer in the Early Church." (Finkenwalde Day, October 11, 2016)
"Perpetua and Felicitas: Prophetic Daughters and Spiritual Handmaids." (Sept 11, 2018) Sermon delivered in Beeson Chapel.
"Virtue and Vice in the Soul of the Seminarian: Encounters with the Noonday Demon." (Finkenwalde Day, October 30, 2019)