Published on November 12, 2019 by Roy Ciampa, Scott Guffin  
Transcript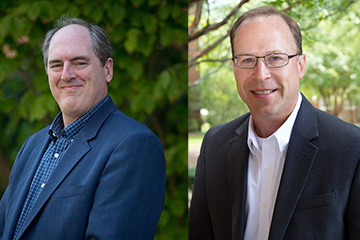 Co-hosts Doug Sweeney and Kristen Padilla sit down with two Samford colleagues, Dr. Roy Ciampa and Dr. Scott Guffin, to talk about the ways in which God is at work at Samford University in their two departments and how Samford is quickly becoming the premier place for students to prepare for gospel ministry.
Dr. Roy Ciampa is the Chair and the S. Louis and Ann W. Armstrong Professor of the Biblical and Religious Studies department at Samford University's Howard College of Arts and Sciences.
Dr. Scott Guffin is the Executive Director of the Christian Ministry department of Samford University's School of the Arts. 
The theme music is written and performed by Advent Birmingham.