Since 2011, Cumberland School of Law has been proud to offer the Student Success Mentoring Program (SSMP), a unique program giving our students, graduates and alumni a stronger network for support and guidance. As an alum, participating as a mentor is one of the most profound ways you can impact the next generation of lawyers.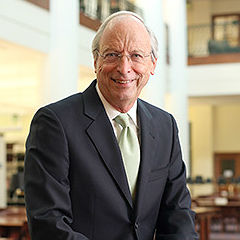 The SSMP program pairs students with outstanding alumni who will give them real-world insight into the practice of law. It's a wonderful enhancement of our high-quality education program. Judge John L. Carroll '74
What's Involved
Mentors are connected to students who most closely match in interest, geographic preference, and in area(s) of practice and location.
Mentors' Commitment
Respond to contact initiated by the mentee (mentee is selected by Cumberland School of Law)
Schedule meetings with mentee in a timely manner
Spend at least two hours per month fostering the mentor/mentee relationship
Assist students in defining and accepting their future roles as lawyers
Serve as models in dealing with clients, colleagues, courts and community
A mentor/mentee relationship of one year. At the end of the year, the mentor and mentee can decide whether they would like to continue the relationship.


By connecting our alumni—the lawyers, judges and legal professionals who are impacting the world today—with our current students, Cumberland School of Law is providing the opportunity to learn skills and gain professionalism needed to practice law. These are the "soft skills" difficult to gain in any academic setting that are important for expanding our students' current and future contacts in the legal community.