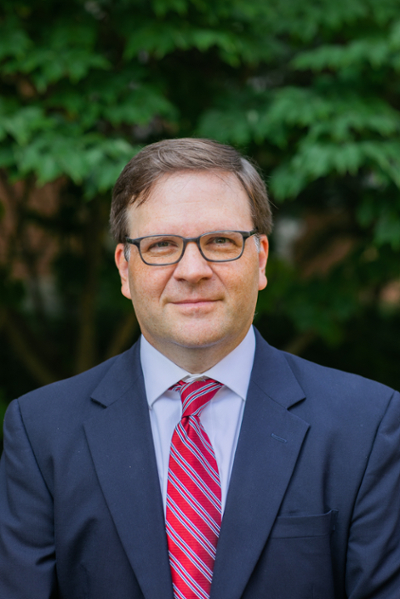 Associate Professor of Law and Director of the Lawyering and Legal Reasoning Program
Cumberland School of Law
201C  Robinson Hall
Jeff Anderson is an associate professor of law and director of the Lawyering and Legal Reasoning (LLR) program at Cumberland School of Law. He teaches Civil Procedure, LLR, and Legislation.  He received the Harvey S. Jackson Award for Excellence in Teaching for 2020-21.
Anderson earned a B.A. in history and political science from Furman University (1997), and a J.D./M.A. (legal history) from the University of Virginia School of Law (2000). He served as a notes editor for the Virginia Law Review.
Before joining the Cumberland faculty, Anderson worked as a law clerk to the Honorable Dennis W. Shedd of the U.S. Court of Appeals for the Fourth Circuit; a litigator at large law firms in Birmingham, Alabama, and Washington, D.C.; and an Assistant United States Attorney for the Northern District of Alabama. In 19 years of practice, Anderson gained extensive experience in general and appellate litigation in federal and state courts across the country.
Degrees and Certifications
J.D./M.A. (legal history), University of Virginia School of Law, 2000
B.A. (history and political science), Furman University, 1997
Teaching and Research Interests
Appellate practice, civil procedure, complex litigation, federal courts, legal history, legal research and writing, legislation/statutory interpretation
Recent Publications
Right for Any Reason, 44 Cardozo L. Rev. ____ (forthcoming 2023) (appellate procedure)
The Principle of Party Presentation, 70 Buffalo L. Rev. 1029 (2022) (civil procedure)