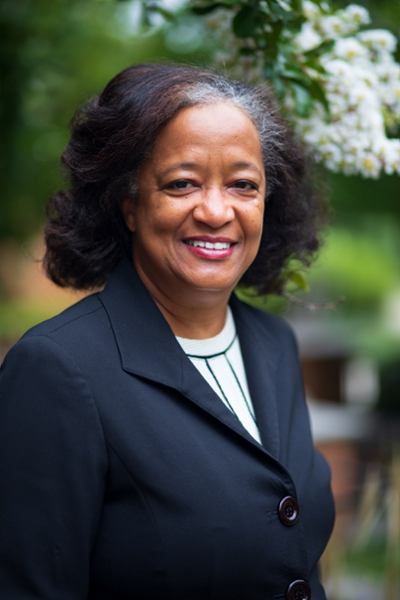 Professor of Law and Director of Clinics
Cumberland School of Law
239G Robinson Hall
Joined faculty in 2007
Teaching & Research Interests: Criminal Law and Procedure, Appellate Advocacy, Business Crimes, Interviewing and Counseling and Postconviction Remedies, Women's Rights, and The Right to Counsel
Bar Membership: Alabama, Georgia and Minnesota
Practice Experience:
Attorney, Equal Justice Initiative of Alabama
Consultant, Federal Defenders Office for the Middle District of Alabama
Associate, Law Office in Atlanta, Georgia
Before joining the academy, LaJuana Davis worked as an attorney for the Equal Justice Initiative of Alabama in Montgomery, specializing in direct appeals and state and federal habeas litigation. Davis also negotiated settlements of capital cases, consulted with private law firms about capital litigation cases, worked with legal and community organizations about criminal justice issues, and recruited volunteer counsel for defendants. Davis has also worked as a consultant for the Federal Defenders Office for the Middle District of Alabama. Immediately after law school, Davis worked at a law office in Atlanta, Georgia, and at an antitrust firm in Minneapolis, Minnesota. Davis is a graduate of Georgia State University and Harvard School of Law. She is a member of the Alabama, Georgia, and Minnesota state bars and a member of the Birmingham Bar Association and the Magic City Bar.
Davis teaches criminal law and procedure, appellate advocacy, business crimes, interviewing and counseling, and postconviction remedies. Before coming to Samford University's Cumberland School of Law, Davis was a visiting professor at Florida Coastal School of Law in Jacksonville, Florida.

Davis's research interests include criminal procedure, women's rights, and the right to counsel. Through her scholarship and community service, Davis continues to advocate in support of juveniles facing criminal prosecution, indigent persons seeking competent counsel, and other constitutional rights.
Degrees and Certifications
J.D., Harvard School of Law
B.A., Georgia State University
Publications
Emerging School Finance Litigation in Mississippi, 36 Miss. C. L. Rev. 245 (2018).
Book Review, Public Education in Neoliberalism's Second Wave: A Review of Alexander J. Means' Schooling in the Age of Austerity: Urban Education and the Struggle for Democratic Life (2013), Indiana Journal of Law and Social Equality (Spr. 2014).
Beyond Xenophobia: The Role of Privilege and Gender Expectation in the LPGA's English Language Policy, 5 Wm. Mitchell L. Raza J. 1 (2011).
Rock, Powder, Sentencing—Making Disparate Impact Evidence Relevant in Crack Cocaine Sentencing, 14 J. Gender, Race & Just. 376 (2011).
The Legal Implications of the Voting Rights Act Consent Decree on Jefferson County's Government, 40 Cumb. L. Rev. 815 (2010).
Reconsidering Remedies for Competent Representation in Removal Proceedings, 58 Drake L. Rev. 123 (2009).
Overriding Emotion and The Pernicious Myth of Racial Jury Nullification, Criminal Law Conversations (ed. Paul Robinson) (Oxford University Press 2009).
The Fourth Amendment Around the World, Encyclopedia of the Fourth Amendment (ed. John Vile, Sage Press).
Intelligence Testing and Atkins: Considerations for Appellate Courts and Appellate Lawyers, 5 J. App. Prac. & Process 297 (2003)
The Alabama Capital Defense Manual, Chps. 3-6, 12-17 (Equal Justice Initiative of Alabama, editions 1-4, 1995-2005)
The Alabama Capital Postconviction Manual, Chps. 2-3, 6, 9-11 (Equal Justice Initiative of Alabama, editions 1-4, 1998-2004)
Discovery in Criminal Cases: Obtaining Evidence and Information Necessary for an Effective Defense, 58 Ala. Law. 352 (1997)
Presentations
Panelist, Lee & Harris Criminal Law Casebook Retreat, San Diego, CA (2011) (discussing classroom techniques in teaching criminal law.
Panelist, Building Bridges: Realizing Our Common Goals across Faculty Roles while Understanding our Differences, Southeastern Association of Law Schools (SEALS), Hilton Head, SC (2011).
Presenter, Florida Legal Scholarship Forum, Stetson University Law School (2010) (race in women's sports).
Panelist, Wrongful Convictions, Miles College of Law, Birmingham, AL (2010).
Speaker, Voting Rights and Jefferson County Politics, Cumberland School of Law (2010).
Presenter, Lutie Lytle Writing Workshop, University of Kentucky (2010).
Speaker, McWhorter School of Pharmacy on student engagement in the classroom (2010).
Work-in-progress immigration article presentation, Stetson University Law School (2009).
Work-in-progress immigration article, Law and Society Conference, Denver, CO (2009).
Work-in-progress white collar crime presentation, Seattle University School of Law (2009).
Panelist, The Effects of the New Administration on Law Schools, Fred Gray Sr. Civil Rights Symposium, Jones School of Law, Faulkner University, Montgomery, AL (2009).
Involvement
Admitted to the Alabama, Georgia and Minnesota State Bars
Member, Birmingham Bar Association
Member, Magic City Bar Association
Admitted to practice in the United States District Courts for the Northern, Middle, and Southern Districts of Alabama; to the U.S. Court of Appeals for the Eleventh Circuit; and to the U.S. Supreme Court.