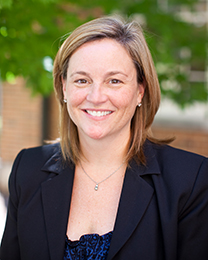 Director of Academic Support
Cumberland School of Law
 Robinson Hall
Joined the faculty as an instructor in Lawyering and Legal Reasoning in 2007.
Teaching & Research Interests
Legal research and writing, bar examination and preparation, Nonprofit Organizations, Conflict of Laws, contemplative and mindful lawyering strategies, academic success and study strategies. Her research interests include educational psychology, learning science, mindset for teaching and learning, contemplative and mindful legal education, curriculum design and assessment in legal education, higher education policy and procedure, life span development of young adults, and the impact of diversity, equity, inclusion, and belonging on learning.
Practice Experience
Law Office of Lynn D. Hogewood
Before attending Cumberland School of Law, she worked as a legal assistant in civil litigation for seven years. Prior to joining the faculty at Cumberland School of Law, she contracted with attorneys in Alabama to provide outside legal research and writing services. Working with the LLR program at Cumberland for over 10 years, she witnessed firsthand the academic challenges first-year law students faced, and she started researching more about academic success with an emphasis on wellness and professionalism. In 2016, Cumberland created the Academic Support Program, where she combines her interest and research to support students from pre-matriculation through passing the bar exam.
Degrees and Certifications
B.A., Samford University
J.D., Cumberland School of Law
M.A., Educational Psychology, University of Alabama (4.0 GPA)
Currently exploring Ph.D. programs to be able to continue to provide Cumberland School of Law students the best academic support possible
200hr Yoga Teacher Training Certification from LifePower Yoga
Koru Mindfulness 
Involvement
Member, Alabama Bar Association, 2003–present

Quality of Life, Health, and Wellness Task Force

Member, Birmingham Bar Association, 2019–present

Health and Wellness Committee, Chairman

Member, Association of Academic Support Educators, 2016–present
Member, Legal Writing Institute, 2009–present
Member, Mindfulness in Law Society, 2019–present

Alabama Chapter Executive Board
Law School Division
Guided Meditation Teacher - Mindful Monday and Wakeful Wednesday

Member, Institute for Well-Being in Law, 2021-present
Member, American Association of Law Schools - Legal Writing Reasoning and Research Section, 2020-present
Member, Association for Contemplative Mind in Higher Education - 2020-present
Awards and Honors
Cumberland School of Law Staff Appreciation Award - 2019, 2022
Bar Admissions
Publications
Contributor to In Memory of Belle Howe Stoddard written by Lindsey Catlett, Editor-in-Chief, Cumberland Law Review Volume 48 (2018).
In Memory of Governor Albert P. Brewer—Leader, Teacher, and Mentor, Cumberland Law Review, 48 Cumb. L. Rev. 625 (2018).
Ad Valorem Taxation Exemption: An Evaluation of Alabama's Tax Exemption for Property Devoted Exclusively to Charitable Purpose, Cumberland Law Review, 33 Cumb. Law Rev. 1 (2002-2003)
Presentations
Co-Presenter, Best Practices for Financial Well-Being of Law Students, AccessLex Symposium '22, Nashville, Tennessee (2022).
Presenter, Mindset Matters for Teaching, for Learning, and for Advocacy, Association of Academic Support Educators Annual Meeting, San Antonio, Texas (2022).
Co-Presenter, Empathy in Dispute Resolution, Birmingham Bar Association, Birmingham, Alabama (2021).
Co-Presenter, Empathy in Dispute Resolution, Alabama Bar Association, Virtual (2022).
Presenter, The Effects of Mindfulness on Academic Success and Mental Well-Being, Association of Academic Support Educators Annual Meeting, Virtual (2021)
Presenter, Mindfulness in the Law, Birmingham Bar Association Annual Meeting, Birmingham, Alabama (2020)
Presenter, Yoga for Lawyers, Alabama Bar Association Annual Meeting, Point Clear, Alabama (2019)
Presenter, Back to Basics of Legal Writing, United States District Attorneys in the Southern Division of Alabama, Mobile, Alabama (2018)
Presenter, Women's Empowerment, Samford Women's Engagement, Samford University, Birmingham, Alabama (2017)