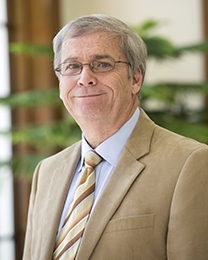 Professor of Law and Director of Law School Technology
Cumberland School of Law
212 Robinson Hall
Teaching & Research Interests: Torts, Products Liability, Professional Responsibility, Damages, Law and Technology
Practice Experience:
Associate; Henry & McCord, Tullahoma, Tenn., 1977-81
Solo Practitioner; Manchester, Tenn., 1977
Clerk; Chief Justice Joseph W. Henry, Tennessee Supreme Court, 1975-77
As the director of law school technology, Professor Edward Martin has been a pioneer in the integration of the latest teaching technologies in the classrooms at Cumberland School of Law, as well as in the development and design of the law school's innovative on-line (distance) education curriculum.
Martin has been honored for his outstanding classroom teaching, and in 2007 he received Cumberland School of Law's Harvey S. Jackson Award for Excellence in Teaching for his instruction in first-year courses. He teaches a variety of law courses in both the regular classroom as well as on-line class environments, including Torts, Damages, Products Liability, Professional Responsibility, Environmental Law, and Cyberlaw.
Martin is also a CALI Remedies Fellow, where he has authored several lessons for the Computer Assisted Legal Instruction and participated in numerous presentations and speaking events pertaining to innovative uses of computers and technology in legal education.
Degrees and Certifications
J.D., University of Tennessee, 1975, Research Editor & Assistant Editor, Tennessee Law Review
Postgraduate Studies, Virginia Polytechnic Institute and State University, Geology
Postgraduate Studies, Middle Tennessee State University, Chemistry & Physics
B.S., University of Tennessee, Geology, 1970
Awards and Honors
Harvey S. Jackson Award for Excellence in Teaching, 2005
CALI Remedies Fellow (2004)
Publications
Premises Liability Law and Practice (five volumes, Matthew Bender & Co., 1987 - 2014, with biannual supplements), and Search Master: Personal Injury Library, a CD-ROM version of the Premises Liability treatise
Personal Injury Damages: Law and Practice (John Wiley & Sons, Inc. 1990)
Co-author of TORTS: CASES, PROBLEMS AND EXERCISES, (Anderson Publ. Co., 4th ed. 2013) with Russell Weaver, John Bauman, John Cross, Andrew Klein and Paul Zwier
Co-author of MASTERING TORTS (Carolina Academic Press 2009) with Russell Weaver, John Bauman, John Cross, Andrew Klein and Ronald Eades
Involvement
Assistant Professor of Law, Oral Roberts University, 1981-83