Published on March 24, 2015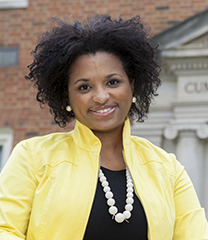 Cumberland School of Law maintains a steadfast commitment to its professors' scholarly development.
Professor D. Wendy Greene's latest article,
"Categorically Black, White, or Wrong: 'Misperception Discrimination' and the State of Title VII Protection"
published in the Michigan Journal of Law Reform, is the recipient of the Law and Society Association's 2015 John Hope Franklin Prize. Per the LSA, the John Hope Franklin Prize was established in 2010 to "recognize exceptional scholarship in the field of Race, Racism and the Law. The prize is awarded annually and is named for John Hope Franklin, a professor of history and law whose interdisciplinary research documented the history of racism and its effects, whose scholarship had both national and international influence, and whose commitments to intellectual freedom, professional service, and civic activism were resolute." The awards luncheon will be held during the Law and Society Association annual meeting in Seattle in May, 2015.
Professor Greene states, "this article is a part of an ongoing and larger project, which I have been working on over the past three or four years. Accordingly, the research and writing for "Categorically Black, White, or Wrong" was funded by a summer research grant; three law students have served as research assistants for this project; and it benefitted greatly from presentation at several conferences. It has also been influential in recent judicial opinions on misperception discrimination in the workplace and is serving as the basis of CLE presentations before state and national employment lawyers associations. Without the support of the law school and University, the development and promotion of this article would not have been possible."