Published on April 19, 2016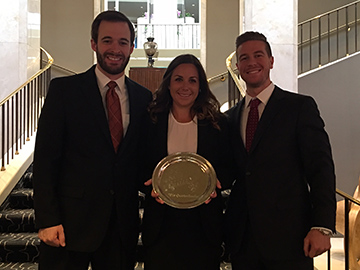 National trial team members Drew Panella, Curtis Seal, and Bianca Svensson competed at the South Texas College of Law's Fifth Annual Mock Trial Challenge April 13-17.  One of the few teams composed of only second year law students, the team litigated their way to the quarter-final round before being eliminated.  Their efforts placed them in the top eight teams out of more than thirty law schools from across the country. 
Panella, Seal, and Svensson competed against students from the University of the Pacific, St. Mary's School of Law, The University of Houston, The University of Pennsylvania, and Stetson School of Law.  Bianca Svensson was recognized as an outstanding advocate. The team was coached by Bains Fleming ('07) and Setara Foster ('12).